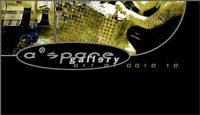 Every Thursday at 8 p.m. the A*Space Gallery at Sarah Lawrence College, a student-run art center, opens a new exhibit of students work. One of the most popular scenes at Sarah Lawrence, the success of A*Space is a product of both the enthusiasm of the students running the space and the support of the college community.
"We welcome work of all kinds, from video, sculpture, painting, photography, music, dance, and experimental performance art to name a few," explains Lisa Cralle, co-manager of A*Space and Sarah Lawrence sophomore. "The only criteria important to have a show at A*Space are motivation and initiative." Dedicated to providing Sarah Lawrence students a venue to display, create, and experiment with art of all mediums regardless of their areas of study, the art space functions as a showcase for students' extra-curricular work.
The space is booked for months in advance. "To make an opening a social gathering, I try to make it social," says junior Brian McNearney, who has had ten shows this year, including both group shows and solo exhibits. "I have invited bands to play or people to mix music and people have fun. They stay longer, talking about art." McNearney is studying art as an independent study this year and A*Space is his vehicle to show his work.
While Sarah Lawrence has a gallery for work done in visual arts classes, A*Space is an opportunity for students to show work done independent of class and is open to students whether or not they are enrolled in creative arts classes. The gallery is an amalgamation of Sarah Lawrence's philosophy of interdisciplinary education and the hard work and dedication of self-motivated students who love art. "A*Space caters to students making art for arts sake, experimenting with alternative forms of learning and expression and rewarding such work with public recognition. It also serves to familiarize students with the workings of an art gallery," says sophomore Erin Mallay, who coordinated a group show last month.
In addition to the new visual art exhibitions each Thursday there is a weekly performance series each Sunday. Following is the gallery schedule for the remainder of the year.
Sun. April 13 Dana's and Janine's Science Films
Thurs. April 17 Kristin Leong, Liam Golden, Amanda d'Amico Group Opening (April 14-19)
Sun. April 20 Patricia Sweet music and projected images
Sun. April 27 Naima Pennyman Opening
Thurs. May 1 Jason Rosen Opening (April 28-May 3)
Sun. May 4 Briana Cartwright Opening
Thurs. May 8 Kris Philipp's Book Arts Class Opening (May 5-10)
Thurs. May 15 END OF YEAR collaborative show (campus-wide visual, performance, interactive happening)