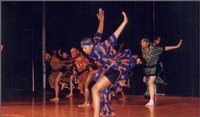 Celebrating African American History Month, Youth Theatre Interactions, a Yonkers- based group of theatre companies for young people, ages 9–19, will perform four original one-act plays at the Suzanne Werner Wright Theatre at Sarah Lawrence College on Friday, February 28 at 7 p.m. Also performing is YTI's African Dance and Drum Ensemble. The program is free and open to the public.
Led by Sarah Lawrence College alumnus Paul "Kwame" Johnson, YTI's Artistic Director, whose work, commitment and dedication to the community will be celebrated by the College that evening, Youth Theatre Interactions is an award-winning performing arts school and repertory performance company. YTI's African Dance and Drum Ensemble is under the direction of Youssouf Koumbassa.
The four plays are: "Martin Luther King, Jr.: A Historical Review" performed by the International Drama Company, performers aged 12-15; "When Push Comes to Shove, Shove Comes to Shoot" and "Smoke, Smoke, Smoke, Don't Believe the Hype" performed by YTI's Intimate Realities Drama Company and "Common Ground," performed by YTI's premiere Intergenerational Drama Company.
In August, 2002 "Smoke, Smoke, Smoke, Don't Believe the Hype" received an award at the Bevard National Teen Drama Festival and in 2001 YTI was the recipient of WCBS TV's "Fulfilling the Dream Award" and the subject of a half hour community affairs special documentary.
Twenty-eight performers will participate in Friday's event. YTI's instructors are professional performing artists from Africa, the Caribbean and the United States. For more information please call (914) 395-2411.