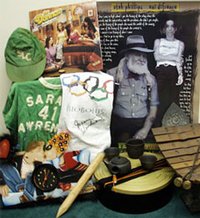 Sarah Lawrence College's Students for Student Scholarship Fund (SSSF) presents its annual fund raising auction to be held Friday, February 21, 8 p.m. in Reisinger Concert Hall. Students, faculty, staff, alumnae/i and neighbors will compete with their checkbooks for donated items ranging from the ridiculous to the sublime at this year's rock n' roll themed event, "The SSSF's Rockin' Auction." The SSSF is believed to be the oldest student-initiated scholarship fund in the U.S.
Among items to be auctioned are a set visit for the taping of "Law & Order," the TV drama starring Sarah Lawrence alumna Elizabeth Rohm and a theatre sized poster for his most recent film Bowling for Columbine, donated by Michael Moore. Mary Karnis of Norwalk, CT, "Wine Ambassador" for Beaulieu Vineyard in Rutherford, Ca, donated a wine tasting seminar for 30-50 people, a package that includes five fine wines from their Costal and Napa series. Other items donated this year include: The Donnas signed vinyl album; a T-shirt autographed by Joanne Woodward; a prop stake from the television series "Buffy the Vampire Slayer;" an Asian influenced Xylophone; vintage Sarah Lawrence jersey and cap; a Japanese tea set; film posters and stills donated and autographed by Edward Norton; four tickets to "Saturday Night Live" and four tickets to "The Conan O'Brien Show."
The Sarah Lawrence Students for Student Scholarship Fund helps bring students in need to Sarah Lawrence with funds raised through campus events. Since 1958 the annual auction has been the students' largest fundraiser. "SSSF supports students who would not otherwise be able to have an academic experience like Sarah Lawrence College," says senior and event coordinator Amanda Fowler. For further information, an updated list of items available at the auction, or to donate an item, please call the Student Affairs Office at Sarah Lawrence College, (914) 395-2575.