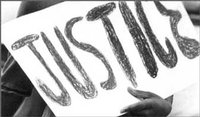 Sarah Lawrence College celebrates Women's History Month and International Women's Day with The Fifth Annual Women's History Conference, "Sisters In Struggle: Honoring Women Veterans of the Modern Civil Rights Movement," Friday, March 7 and Saturday, March 8, 2003. The conference is organized by the Women's History Graduate Program.
"Popular culture—movies, documentaries and books—has regaled the public with stories of Martin Luther King, Jr. and others who put their lives on the line, and there is the perception that all activists were men. They weren't," explains Tara James, associate director of the Women's History Graduate Program. "Women planned campaigns, went on freedom rides and marches and faced jail with fellow male activists. The conference is an opportunity to tell their stories."
Keynote speaker for the conference that will attended by scholars and activists from around the country, is Gloria Richardson, leader of the Cambridge (Maryland) Movement, one of the first civil rights movement to be headed by a woman, the first grass roots movement outside the deep south and one of the first to focus on economic conditions as well as civil rights.
The conference, which will include lectures, panel discussions and performances, will focus on the accomplishments of many individual women during the Civil Rights Movement, as well as those of The Little Rock Nine and other activist movements. Among the women activists featured during the conference will be Ella Baker, who chaired the Southern Christian Leadership Conference and was central in the founding of the Student Non-violent Coordinating Committee, and Fannie Lou Hamer, a Mississippi sharecropper, whose testimony helped to integrate Mississippi's delegation to the 1964 Democratic National Convention.
The conference is co-sponsored with the Yonkers NAACP, Community Unitarian Church of White Plains and the Sarah Lawrence College Offices of Multicultural Affairs, Student Affairs, Global Studies and Graduate Studies. It is underwritten in part through the generosity of The Donald C. Samuel Fund for Economics and Politics. For more information, please call (914) 395-2405. (Schedule is subject to change.)