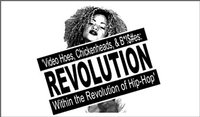 Activists, artists, and performers will stage a rally on Saturday November 23 to raise awareness of the degrading images of women in mainstream hip-hop music and popular culture. The rally, entitled, 'Video Hoes, Chicken-Heads, and B*tches: Revolution Within the Revolution of Hip-Hop,' will take place at Sarah Lawrence College from 2 to 7p.m and is open to the public.
The artists and speakers include: The Hammer Bros.; Tha Iron Triangle; Akil of Jurassic 5; Carmen Ashhurst-Woodard, former President of Def Jam Recordings; Yejide, the Night Queen; Maspyke; Jorge 'Fabel' Pabon, Rock Steady Crew; Christie Z-Pabon, Tools of War, Event Publicist & Event Coordinator; Mahdi Bray, Executive Director, MAS Freedom Foundation; Hakim Sabree, New Africa Intelligencia; Rev. Graylan Hagler, United Plymouth Congregational Church; Meqqa, Spoken Word Artist; Demetria Royals, Filmmaker; Aisha Al-Adawiya, Women In Islam; Jamila Jihad-Wahhaj, activist.
Tauheeda Yasin, chair of the Muslim Student Association, the organizer of the rally, said: "As Muslims, we are against injustice anywhere. We can't turn our backs to the fact that popular culture has an effect on everyone. We are seeing our children being influenced by hip-hop and other popular culture, and we are becoming increasingly aware that it isn't enough to just turn off the TV. We must speak up about these images and the negative effect that they have on popular opinion, public policy and society as a whole."
Yasin stated that the rally will feature a discussion afterwards between the audience and the performers. Rally-goers will be able to ask the speakers and performers questions about misogyny in popular hip-hop music and popular culture and engage in dialogue about solutions to the problem, including ways individual students, teachers, parents, and consumers can act to counter the effects.
"Popular culture has a strong influence on the decisions of policy makers," said Yasin.
"The vast majority of the images we see in hip-hop portray African-Americans and Latinos, as brutish, materialistic, ignorant, and over-sexed. These images further a historical stereotyping of African-Americans in particular and now, also Latinos. These images and attitudes become internalized by African-American, Latino, and Asian youth, and increasingly suburban white-American youth as well. They internalize these attitudes toward women, which results in it becoming socially acceptable to call a woman by a derogatory name, or committing physical or psychological abuse against a woman. This rally is one of the best ways to start a much needed, in fact urgent, conversation about this," said Yasin.
The rally will take place in Reisinger Hall at Sarah Lawrence College near the corner of Kimball Avenue and Glen Washington Road. For more information please call (914) 395-2411.