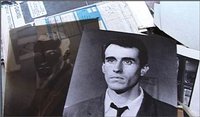 The Film History faculty at Sarah Lawrence College will present a one-day symposium on French filmmaker Robert Bresson, to be held at the College on Friday December 13, beginning at 9:45 a.m. in the Film Viewing Room of the Performing Arts Center. The symposium will include a film presentation and papers presented by scholars of Bresson and French cinema.
The morning session, beginning with coffee at 9:45 a.m., will include an introduction by Sarah Lawrence Film faculty member Malcolm Turvey and a presentation by filmmaker Babette Mangolte on her work in progress Breaking Silence/Les Modeles de Pickpocket, about the making of Bresson's Pickpocket. The afternoon session will begin at 2:30 p.m. in Titsworth Lecture Hall and will include By Film History faculty member Gilberto Perez, Alan Williams, Professor of French and Cinema Studies at Rutgers University; Brian Price, Professor of Cinema Studies and Writing at New York University; and Tony Pipolo of the Film Certificate Program at the Graduate School of the City University of New York. A reception will follow at 5 p.m.
Although he only made thirteen feature films and one short film in a career that spanned six decades, Robert Bresson is one of the most original and revered film artists. His films are known for their austere style, their idiosyncratic adaptation of a wide range of literary sources (Dostoyevsky, Bernanos, Tolstoy, the Arthurian legends), and their preoccupation with themes such as alienation, grace, faith, and communication.
This event is sponsored by the Noble Foundation Chair in Art and Cultural History of Sarah Lawrence and is open to the public. For more information, please call (914) 395 2230.