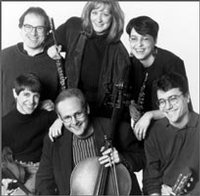 The internationally acclaimed Cygnus Ensemble will perform at Sarah Lawrence College, on Wednesday, December 4 at 8 p.m. in Reisinger Concert Hall. The Cygnus Ensemble is one of New York City's most innovative and exciting new music chamber groups. They are in residence at the College throughout the 2002-2003 academic year.
The concert on December 4 will be the first of two performances open to the public that will highlight the year and will include world premiere performances of works by Stephan Wolpe, the center of an important circle of composers in New York from the 50's through his death in the 70's. 2002 is the centennial year of Wolpe's birth and Cygnus is contributing to the extensive celebratory concerts.
Though structured somewhat like the "broken consort" of Elizabethan times—with strings (violin, cello, guitars) and winds (flute, oboe), Cygnus is dedicated to contemporary music, providing composers and audiences with unique ideas and sounds. The group's concerts and recordings have received broad recognition for their distinctive artistry.
"This first concert promises to be mind-bending, deeply soul-searching, and musically exhilarating," said Chester Biscardi, director of Sarah Lawrence's music program. The second Cygnus concert will take place during the spring semester and will include the world premiere of a new work by Milton Babbitt.
The Cygnus Ensemble is a not-for-profit organization whose artistic direction is guided collectively by members of the group. Members are: Tara Helen O'Connor, flute; Oren Fader, guitar, electric guitar; Bob Ingliss, oboe; Susannah Chapman, cello; Cal Wiersma, violin; William Anderson, guitar, mandolin, banjo.