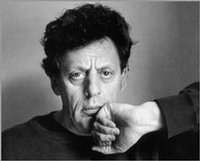 The Sarah Lawrence College Orchestra, conducted by Martin Goldray, will perform Minimalist masterpieces for chamber orchestra and soloists in a concert titled "Less is (Sometimes) More" on Tuesday, November 19 in Reisinger Concert Hall at Sarah Lawrence College.
"Although it is described by this single term, minimalism actually encompasses a diverse range of styles," says Goldray. "The SLC Orchestra will present four very different approaches to this language." They will be performing four minimalist works by Philip Glass, Steve Reich, Terry Riley and Morton Feldman.
This concert was proceeded by a series of lectures on Minimalism in Art and Music, highlighted by Philip Glass's visit on October 23rd. Philip Glass is one of the most popular serious composers in the U.S. In addition to his more classical work, he works with minimalist concepts creating experimental and exploratory music. He began working in the mid 1960's with the Indian musicians Ravi Shankar and Alla Rakha. His concert work includes Einstein on the Beach (1976), Satyagraha (1980), Akhnaten (1984), The Making of the Representative for Planet 8 (1988) and The Voyage (1992), among other chamber operas. His critically acclaimed film scores include: Kundun, directed by Martin Scorsese (1998 LA Critics Award, Academy, Golden Globe, and Grammy nomination for Best Original Score) and original music for The Truman Show directed by Peter Weir (1999 Golden Globe Award for Best Score). His work has also touched areas of rock and jazz.
The second speaker in the series was Judith Rodenbeck of the Art History Faculty, who spoke on "Minimalism: Works of Art," on Wednesday, October 30. The last speaker was Martin Goldray of the Music Faculty, who spoke on "Minimalist Music," on Wednesday, November 6.
"Minimalism is the most influential musical style of the last 30 years," Martin Goldray, of the Music Faculty, explains, "[It] began as a counter-cultural phenomenon in the 1960s that sought to radically redefine the notions of time, form and harmony in music… [It] has influenced a generation of composers of opera, theater music, concert music and popular music."
The concert is free and open to the public. For more information, please call (914) 395-2411.