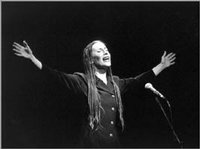 The Aviva Players, a group that performs chamber music and songs by women, will showcase pieces composed by women composers from Sarah Lawrence College in Reisinger Concert Hall at the College on Sunday, November 3 at 4 p.m. Celebrated artist Meredith Monk, an alumna of the College, will perform, as will soprano Eddye Pierce Young, a member of the faculty. A short question and answer panel discussion with the composers and the musicologist Dorothy Indenbaum will follow the concert. Admission is $10, and $8 for students with identification and senior citizens. For more information, please call (914) 395-2411.
The Aviva Players will be performing select works written by Sarah Lawrence College alumnae, including pieces by, Eleanor Cory, Rebekah Driscoll, Binette Lipper, Meredith Monk, Mira J. Spektor, and Joelle Wallach.
In addition to Monk and Young, artists performing at this concert will include Theo Blackman, vocalist; Yuval Waldman, violin; Mara Milkes, violin; Kathleen Foster, viola; David Calhoun, cello; Jenny Undercofler, piano; and Philip Bashor, clarinet.
Founded in 1975 by Mira J. Spektor, artistic director, the Aviva Players research, present, promote and perform the rich repertoire of chamber music and songs by women composers from the 12th to 21st centuries. They have been heard in auditoriums, libraries, universities, churches, temples and on radio and television in New York City, the Tri-State Area and Palm Beach, Florida.
Mira J. Spektor, composer/poet/singer, is Founder and Artistic Director of The Aviva Players, a group that since 1975 performs chamber music and songs by women composers. Born in Europe, she graduated from Sarah Lawrence College, and then studied at Mannes College and Juilliard. Ms. Spektor has written songs (music and lyrics), chamber music and operas, music for theater, feature films and Channel 13-TV, and recorded LPs for Concert Hall, Westminster and Guilde International du Disque. Her recent CDs include: The Housewives' Cantata, Lady of the Castle, and Mira Chante/French Lovesongs on Original Cast Records, and Lullabies and Love Songs on AirPlay. She is a member of BMI, the Dramatists Guild, and The League of Professional Theater Women. Allan Kozinn in The New York Times wrote about her music: "The setting was attractive and tonal and recalled some of the more graceful music in Bernstein's Trouble in Tahiti." A published poet, Ms. Spektor has a new poetry collection, The Road to November, coming out this fall.