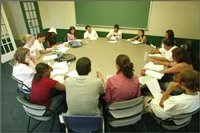 This year, 21 students from Yonkers high schools have won scholarships to attend the Summer High School Writers' Workshop at Sarah Lawrence College, July 8-12, in an expanded scholarship program funded by the Greater New York Chapter of the Fulbright Association. For the second successive year, a competition was mounted by the Fulbright Association, a member organization of former Fulbright students, teachers and scholars, to encourage student writing on topics of international concern.
The Summer High School Writer's Workshop is attended by 70 students from the tri state area. Last year 10 students from Yonkers were awarded scholarships by the Fulbright Association. Pleased with the enthusiasm expressed from all the participants, Sarah Lawrence College, the New York chapter of the Fulbright Association and the Yonkers Public Schools decided to double the number of scholarships offered this year.
"It is important to us as a college based in Yonkers to have students who are close neighbors participating in the workshop," said Alexandra Soiseth, coordinator of the program. "We're delighted that the Fulbright scholarship students have grown two-fold this year."
Fulbright participants were selected on the strength of writing assignments, carried out this spring, that dealt with diversity, conflict resolution or global issues, issues of concern to an organization that fosters international understanding. "Particularly now that a writing section will soon be added to the SATs, we feel it is increasingly important to acknowledge the schools' emphasis on writing and reward the writing efforts of students while encouraging their creativity and thinking about these important issues," said Rosalba Del Vecchio, education committee chair of the Fulbright Association's Greater New York Chapter.
"We wanted to increase the number of students from Yonkers schools who would have the opportunity to learn from the writers, poets and theater artists who teach at Sarah Lawrence, a nationally renowned college for teaching writing and the arts," she said.
The five day workshop at Sarah Lawrence College, which is under the direction of the MFA program in Writing, offers young writers an opportunity to explore the creative process with skilled writers and artists, and to experience writing in a supportive environment. For additional information on this program, contact Alexandra Soiseth, Coordinator of the Workshop, at (914) 395-2371.
Following is a list of the Yonkers/Fulbright Association participants in the Sarah Lawrence College Summer High School Writers' Workshop, their schools and grades in September: Gorton High School: Selena Watkins, 10th, Belkis Ocon, 10th, Magdalena Janusz, 11th, Ryan Tippetts, 11th; Lincoln High School: Esmirna Torres, 11th, Alexis M. Finch, 11th, Aimee Baerga, 10th, Rachel Jackson, 11th; Roosevelt High School: Vilma Gjuraj, 10th, Michael Pascua, 10th, Shade Denman, 10th, Shreeja Mary Phillip, 10th; Saunders High School: Latha Jayakumar, 10th, SiMing Lee, 10th, Melissa Lebenson, 11th, Caitlin Stolarski, 11th; Yonkers Middle and High School: Laura Vargas, 10th, Rebecca Scheinberg, 10th, Matthew Hill, 11th, Josephine Alade, 12th; Yonkers Preparatory School: Terri Eisenberger, 11th.