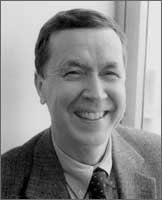 Tom Roderick will give the Thomas H. Wright Lecture titled "Keeping the Faith: Teaching and Social Responsibility in Challenging Times" as part of the 2002 Empowering Teachers Program at the Child Development Institute, Sarah Lawrence College. The lecture will take place on Monday, July 8 in Reisinger Concert Hall at 11:30 a.m., and is free and open to the public.
Roderick has served as executive director of Educators for Social Responsibility (Metropolitan Area) since 1983. Educators for Social Responsibility works towards helping people develop the convictions and skills to create a just, peaceful and democratic society. The organization provides concrete ways for educators and students to address social problems such as violence and racism and to work for a future based on respect and nonviolence. Commenting on the significance of Tom Roderick's address, Associate Director of the Child Development Institute, David Leonard said, "teaching is and should continue to be recognized as a democratic endeavor."
The annual Empowering Teachers Summer Institute at Sarah Lawrence College brings teachers from 25 school districts to Sarah Lawrence College to explore a variety of challenges facing children, families and schools in today's society. This year, the theme of the Summer Institute is "Processes of Change in Schools." The Summer Institute has received funding from General Foods U.S.A. and the NYNEX Foundation. The Thomas H. Wright lecture is funded by the Leon Lowenstein Foundation and individual contributors.
For more information or to RSVP, please call (914) 395-2412.