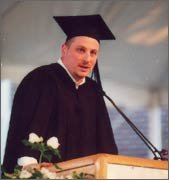 John J. Lipuma is a Vice President of Sales for an advertising technology company in Manhattan. John earned his MFA in Creative Writing Fiction from Sarah Lawrence as a part-time student over a three year period. He published his first book in July 2001, a short story collection entitled "Jubilee & Other Stories" published by the First Books Library. His most recent work, a non-fiction piece entitled "A Letter To Jackie" appears in FOR THE GATHERING, a Sarah Lawrence College commemorative tribute to the events of 9/11.
"The next speaker after me is a Pulitzer Prize Winner (Anna Quindlen), so there's no pressure...
This is for those who are faced with what to do with the rest of their lives:
Ernest Hemingway once said "If you want to know where your true talents lie, look at how you earn your living." I earn my living as a Vice President of Sales for an advertising technology company in Manhattan. I earned my MFA in Creative Writing from Sarah Lawrence College as a part-time student over a three year period. In other words, the pursuit of my dreams has only been a part-time endeavor.
It was thirteen years ago that I earned my BA in English from Providence College and set off for New York City to pursue a career as a writer. My first job out of school was as an advertising salesperson at Esquire Magazine in New York. I was very selective about choosing Esquire — a literary lifestyle magazine that had published the early works of Hemingway, F. Scott Fitzgerald and hundreds of other great writers. I took the position on the business side of the magazine as way in the door, hoping for an eventual opening on the editorial side. Two things soon became apparent: 1) editors don't like salespeople — there's this separation of "church and state" and 2) the editors of Esquire had no interest in publishing the original works of some kid in the advertising department over those of Saul Bellow and Norman Mailer.
So in a few years I worked my way up as an advertising Salesman, soon making more money at 25 than the 40 year old managing editors who were routinely and joyfully rejecting my work. Later I worked at Vanity Fair, again staying in close proximity to celebrated writers and editors, but never fully inhabiting their reality. My reality was traveling around the country selling ad space to corporate advertisers — writing stories on planes and in hotel rooms alone at night, keeping a journal but always with divided attention and energy. I stepped up my efforts enrolling in writing programs — the summer program at Yale, the Fine Arts Center in Provincetown — working on the craft of fiction writing. One of my workshop teachers became a mentor in Provincetown, to whom I explained my moral dilemma of being a salesman but really wanting to be a writer. He offered me some words of wisdom that led me to Sarah Lawrence College. He said,
"Being a salesman is a wonderful training ground for writing."
I looked at him in disbelief. "How so?"
"Only a salesman can appreciate just how important each word is in communicating with people. In sales, like in writing, there has to be a precision in language to be successful. You are telling a story — taking someone from point A, to point B to point C. The same is true as a writer bringing a reader along in your story. And of course, you are probably gaining valuable insight into different types of people, their motivations, learning what makes them tick — I would think sales provides you with a fertile wealth of experiences as a writer that you can build on."
He went on to advise that I apply to an MFA program. Energized by his words I sought a nurturing environment, a refuge away from corporate life in NYC, to be among other aspiring artists in pursuit of my dream. The first time I set foot on this campus I knew there was no other place for me. To gain acceptance into a writing program as prestigious as this one at Sarah Lawrence was literally a new lease on life for me. The fateful decision of keeping my job while attending part-time brought with it some harrowing experiences.
For instance, using the "writing is good for sales theory" on my Educational Assistance application, I convinced my company to pay my full tuition. Naturally they assumed my classes would be at night. My classes were always held in the middle of the day. Attending class and getting to Bronxville from Manhattan without my superiors catching on to my whereabouts has become the stuff of legend. I would excuse myself from important meetings and dash unseen out the door, always careful to leave props in my office to give the impression I had not left for the day — a fresh cup of coffee on the desk, or my keys, a coat on a chair — some of my best creativity over the past three years was not on the page — but in the escape routes I used fleeing the office. In fact, I'm sure they are looking for me right now.
The short, thirty minute train ride from Grand Central to Bronxville could be an emotional rollercoaster — dodging cell phone calls, the manic high stress of leading a secret life — but without fail the walk from the train station through the backstreets of Bronxville, past the Tudor houses and stone walls of campus, in rain or sunshine or snow — my Great Escape was exhilarating. The feeling I got being in class at Sarah Lawrence — it's a feeling I never experience in corporate America. Every walk to class for me became a victory walk — a small battle won in keeping my dream of becoming a full-time writer alive.
Whatever your true talent is, make it your life's work. Don't settle for small victory walks in the pursuit of your dream. All of us here today, as graduates of SLC, have achieved more today than merely keeping a dream alive — we've advanced it another step forward. Thirteen years have passed for me between my BA and my masters today — imagine if I had spent that time fully devoted to writing. That is the challenge for all of us from this day forward — will we live each day in pursuit of our dreams? Will we realize the full breadth of our God-given talents — or will we let it fall away from us?
I wish each of you endurance and fortitude on your walk of life. I wish you peace at the center. Walks are best taken with people you love, hand in hand, where no words can do justice to the inspiration felt inside your heart, where the movement is always forward movement and you eventually get to where you're going. May it be so for your dreams."