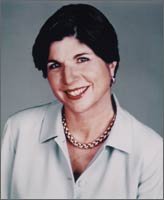 Pulitzer Prize winning journalist and best selling author, Anna Quindlen, will be the speaker for Sarah Lawrence College's 73rd Commencement on May 24 at 10 a.m. A highly regarded social critic, Quindlen will address the 281 candidates for the Bachelor of Arts degree and 134 candidates for Master's degrees.
Currently a columnist for Newsweek magazine, Quindlen has written for major newspapers and magazines for over 25 years, winning the Pulitzer Prize in 1992 during her 18 year tenure at The New York Times. Quindlen made her journalistic reputation there where she was the first woman and youngest writer ever to pen the "About New York" column. She was the first female deputy metropolitan editor of The New York Times and the third woman to write a regular column for the paper's op-ed page.
An author with a wide range of interests, she has appeared on best seller lists for her fiction as well as non fiction. Her three novels are Object Lessons (1991), One True Thing (1994) and Black and Blue (1998). Other books by Quindlen include a collection of essays, Living Out Loud (1998); How Reading Changed My Life (1998) and two children's books, The Tree That Came to Stay (1992), and Happily Ever After (1997). Her most recent book, A Short Guide To A Happy Life (2000) will be followed by a novel, Blessings, to be published in the fall of 2002.
"We are honored and excited to have Anna Quindlen share her words and insights with the class of 2002," said Sarah Lawrence College president Michele Tolela Myers.
Sarah Lawrence is a liberal arts college for men and women, founded in 1926, with a distinctive system of education. It is known for having one of the lowest student/faculty ratios in the country. At the core of the system are small classes, regular one-on-one student-faculty conferences, cross-disciplinary approaches and the integration of the creative arts within the curriculum.