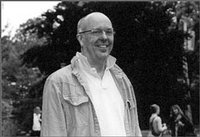 Dan Hurlin, a member of the Sarah Lawrence College theatre faculty, has won a prestigious 2002 Guggenheim fellowship to choreograph a dramatic puppet piece to premiere at the Dance Theatre Workshop in 2004.
Shirley Kaplan, head of the Sarah Lawrence College Theatre Department, says that Hurlin's Guggenheim fellowship attests to his abilities as an inventive interdisciplinary performance artist. Hurlin's fellowship-funded project will be a full-length puppet piece inspired by the true story of the Hiroshima Maidens, a group of twenty-five women who were disfigured by the atomic bomb dropped on Hiroshima in 1945. Amid much publicity, the women were invited to the United States in 1955 to undergo reconstructive surgeries. A 'blackout' on images of survivors imposed by the U.S. State Department meant that when the women made public appearances, they could only appear in silhouette. Hurlin's piece will trace the Hiroshima Maiden's odyssey culminating in their appearance (in silhouette) on the television show "This Is Your Life." Influenced by Bunraku or traditional Japanese Puppetry, the piece will be accompanied by music by Bessie award-winning composer Robert Een.
An alumnus of Sarah Lawrence College and a faculty member since 1997, Hurlin works with graduate and undergraduate dance and theatre students at Sarah Lawrence College. Hurlin has performed at venues in New York City including Dance Theatre Workshop, LaMama and Danspace and has received numerous awards for his work including a Village Voice Obie Award and a New York Dance and Performance Award.
Guggenheim Fellowship Awards are given on the basis of distinguished achievement in the past and exceptional promise for future accomplishment. The year 2002 Fellowship winners include 184 artists, scholars and scientists selected from over 2800 applicants. Previous Guggenheim appointees include Nobel Laureates and Pulitzer Prize winners.