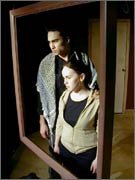 New Plays - New Talent - New Projects
New Visions for a New Audience
Come celebrate the tradition of nurturing new artists at SLC during this week-long informal look at new plays, Performance pieces, reconstructions, musical and dance pieces
Cap 21 Stage
15 West 28th Street, 2nd floor, NYC
(Between 5th & Broadway)
By Subway: #6, N or R to 28th Street
Open Seating/No Admission Charge
For reservations call: (212)539-7546
---
Monday, 4/15
 8PM — Hosted by Edward Allan Baker and Doug MacHugh '00 MFA
BABY BOOMER BITS: short plays from Edward Allan Baker's New Playwrights Workshop

Tuesday, 4/16
8PM — Hosted by Ernest Abuba and Kevin Confoy
From Kevin Confoy's The Play's the Thing, three scenes
From Ernest Abuba's Production for Directors:
A scene from THE BEGINNING OF THE WORLD written & directed by Nora Long
LOST BOYS, a musical by Andrew Rothschild, directed by Brian Schneider

Wednesday, 4/17
 8PM (Special Alumnae reception starting at 7:00PM)
Hosted by Shirley Kaplan, Sally Davis, Jed Distler '78 and Peter Morris '01 MFA
NEW VOICES, NEW MATERIAL Original Work from Shirley Kaplan & Jed Distler's Musical
Theatre Lab, directed by SuzAnne Wilson & ensemble.
THE PROCESS: ICONOLOGIE OF FIBERS from Ernest Abuba's Painters' Theatre Class

Thursday, 4/18
 8 PM Hosted by Dave McRee and Sarah Kate Robbins '01 MFA
CELEBRATING DIVERSITY, a collaborative project produced by Lyralen Kaye and directed
by Amir Levi
WHILE THE MASTER SLEEPS… A dance performance choreographed by Amir Levi
SPELL #7 performed by Yvette Feuer from Michael Early's African American Theatrical Aesthetic
SEVEN VERSES directed by Sari Rotskoff from Kym Moore's Collaborative Techniques
Performance piece by Tosha Brown, directed by Sarah Kate Robbins '01 MFA
Friday, 4/19
8PM Hosted by Paul Austin and Rob Decina '94 MFA
TWO SOLOS, TWO MAIDS: from Paul Austin's Actors/Directors, 3 one acts as works-in-progress:
MEDEA REDUX by La Bute;
DEAF DAY by Ayvazian,
THE MAIDS by Genet
Saturday, 4/20
2PM ONE FINE DAY: A staged reading of a new black comedy by Peter Morris '01 MFA
8PM Hosted by Christine Farrell and Amanda Melson '97
VIRGIN STAND-UP from Christine Farrell's Comedy Workshop
Sunday, 4/21
 7PM — BAG OF MIXES hosted by Allen Lang & Michael Raymen '79
HOP 2, a performance from Liz Milwe's Dance for Theater
PINK ARMADA, a performance piece by Julia Lingenfelter, directed by Jennifer Ortega
A BOX ABOVE THE WORLD by Sean O'Connor, directed by Patricia Henritze
ALBATROSS written and directed by Kym Moore
DIVIDE & CONQUER (a scene from) written and directed by Kym Moore
FLORENCE NIGHTINGALE written and performed by Patricia Henritze
WE NEED AN ENEMY by Jessamyn Fiore, directed by Marie Reynolds
Pre-performance reception for each program; come early and toast the alum hosts!
Program subject to change. Call (212)539-7546 to confirm schedule and programming.