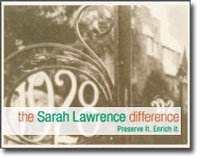 Sarah Lawrence College has announced a new $75 million fundraising campaign: "The Sarah Lawrence Difference: Preserve it. Enrich it." A kick-off event will be held March 6 at the Manhattan home of College trustee Ann Tenenbaum and her husband Thomas Lee. A series of small events, taking place over the next few months, will extend the campaign launch to other locations around the country.
At the heart of the campaign is the need to support the costly, unique pedagogy that provides for regular one-on-one conferences between students and their teachers and frequent individual student meetings with a faculty don (academic advisor.) Since its founding in the 1920s this system has been the hallmark of the small liberal arts college for men and women, consistently ranked first among national liberal arts colleges for low faculty-student ratio in U.S. News and World Report's America's Best Colleges. "The Sarah Lawrence mission - education in the singular - has never been more vital, more timely, or more in demand," says Michele Tolela Myers, president of the College. The campaign will culminate in 2004 in concert with the College's 75th anniversary celebrations.
The campaign's goal is to raise $12.5 million through the annual Fund for Sarah Lawrence, increase endowment by $20 million, invest $12.5 million in strategic initiatives that include faculty salaries, financial aid for students, technology and facilities and allocate $30 million for building construction and renovation.
A new 60,000-square-foot visual arts center will represent an innovative, interdisciplinary vision for the way arts are taught. The centerpiece of the building program, it will alleviate an academic and social space shortage and allow for increased curriculum demands in the areas of photography and filmmaking. Cross-disciplinary approaches and the integration of the creative arts within the curriculum are central elements of the Sarah Lawrence system.
Groundbreaking for the Monika A. and Charles A. Heimbold, Jr. Visual Arts Center is planned for May, 2002. "We have raised almost $45 million to date for this campaign in its silent phase," says new vice president of College Resources, Suzanne M. Murphy, who is confident that the campaign goal will be reached on schedule.