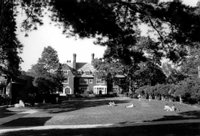 Friday, May 24
10:00 am — Westlands Lawn
Please take a moment to read these helpful guidelines for Sarah Lawrence's 73rd annual Commencement. If you have any questions or concerns, you are welcome to contact the Office of College Events at (914) 395-2412. We look forward to seeing you on May 24!
Commencement seating
Space at Commencement is very limited: we can accommodate four guests for each graduate, so each graduate will receive only four invitations. The invitations will include tickets and will be required for admittance to the ceremony. Seating is on a first-come, first-served basis. Graduates will be notified when they may pick up their invitations in the Office of College Events to distribute as they wish; generally, they are available during the last week in April. We strongly urge you to arrive early on the 24th to secure your seat.
Special seating is provided for guests with disabilities. Please contact the Office of College Events at (914) 395-2412.
Photographs/Video
So that families can have an individual keepsake portrait of their children — photographed in close up as they receive their diplomas — the College has made arrangements with Island Photography of Glen Cove, New York. The firm will be in contact with each graduate with a mail-order form in late June. There is no obligation to purchase the photographs.
A professional videographer will be taping the entire ceremony from an excellent vantagepoint. Please contact the Office of Communications to obtain a copy.
We know how important it is for families to have photographs and/or videos of important events like this one, and how disruptive it can be for guests when — in so intimate a space — many in the audience are taking photos during the ceremony. We hope that you will find these professional arrangements to be a useful alternative.
Parking
On Commencement Day, you may park along Kimball Avenue or in any Sarah Lawrence parking lot. However, parking on any side street may result in a ticket from the City of Yonkers. College Security will direct you to parking areas when you arrive on the campus. We strongly suggest that you arrive as early as possible on the 24h to secure a parking space, or consider taking other transportation.
Commencement Week activities/Dormitory closings
Traditionally, Commencement Week is a wonderful opportunity for graduates to relax and spend time with their friends and faculty at events like the Senior-Don Dinner and the Senior Lecture. Please note that, with the exception of Commencement itself, all events scheduled during this week are for students only.
Seniors are welcome to remain in their dormitories during the week, but please keep in mind that all students must vacate their rooms before 8:00 p.m. on Friday, May 24th. There can be no exceptions.
Area accommodations
Sarah Lawrence College does not have any relationship with the businesses listed — the list is provided for your convenience only. Please call hotels directly for reservations and directions.
New York City accommodations
You may choose to stay at a hotel in the New York City area, as Sarah Lawrence is only a 30-minute train ride from midtown Manhattan. Trains to the college are on the Harlem branch of Metro-North Railroad. The trains run approximately every half hour to and from Grand Central Station, and it is only a short taxi-cab ride from the Bronxville station to the College. For train information, fares and schedules, call Metro-North Railroad at 1-800-638-7646, or visit their Web site:http://www.mta.nyc.ny.us/mnr/index.html. If you are driving, allow 30 — 45 minutes during non-rush hour periods, and more during peak commuting hours..