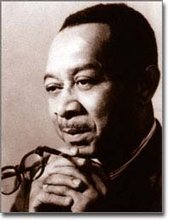 Sarah Lawrence College hosted a conference on race and identity October 12-13, 2001, which brought together prominent African American psychologists. The conference, Race and Identity: Perspectives on American Society, was designed to clarify what we know about race and to assess its impact on American culture as well as the psychological make-up of American citizens. The conference honored the work of Kenneth Clark whose research on the development of self-consciousness and racial identification in Negro children played a crucial role in the Supreme Court's landmark 1954 decision Brown v. Board of Education. Dr. Clark was awarded an honorary doctorate by the College.
Kenneth Clark was the first African American to receive tenure at the City College of New York, to be elected president of the American Psychological Association, and to serve as a member of the New York State Board of Regents. Professor Clark gained a national reputation as the founder and director of Harlem's Northside Center for Child Development.
"This conference gives us a forum to rethink the question of race in American culture and at the same time to reassess the commitment of social psychology to this issue," said Gina Philgène, coordinator of the conference and member of the psychology faculty at Sarah Lawrence College. "Fifty years after the launching of a very long process aimed at desegregating the culture, it is appropriate for us to celebrate Kenneth Clark and to honor him for the crucial role he played in setting this process in motion."
"Black scholars in psychology have had a lot to say on the subject of race and each of the invited participants has made important contributions. However, they have not previously had a chance to share and discuss their work with each other in a formal conference setting," said Philogène.
The conference was sponsored by the American Psychological Association - Science Directorate, Sarah Lawrence College, and The Donald C. Samuel Fund for Economics and Politics.
At the opening on Friday, October 12 at 2 pm, Professor Clark was awarded an honorary degree by Sarah Lawrence College. This was followed by a short documentary film "A Journey to Little Rock" and a keynote address by anti-racist activist Jean Trickey who was one of the "Little Rock Nine."
—Sponsored in part by The Donald C. Samuel Fund for Economics and Politics