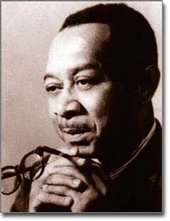 Part-I: Kenneth Clark
Friday, October 12, 2001
Opening comments
2:00PM-2:30PM
Gina Philogène (Sarah Lawrence College)
Michele Myers (Sarah Lawrence College)
Honoring Kenneth Clark
Brief ceremony to honor and thank Professor Kenneth Clark for his contribution to psychology and our society as a whole.
Film screening
2:30PM-3:30PM
"Journey to Little Rock"
Maria Shin (Northeast Productions)
Keynote address
Jean Trickey (Little Rock Nine, Anti-racist activist)
Coffee Break
3:30PM-4:00PM
Part-II: Black Psychologies as Cultural Analyses
Panel discussion: Creating an Identity
4–6:00 p.m.
Chair: Linwood Lewis (Sarah Lawrence College)
Robert Sellers (University of Michigan - Ann Arbor)
"Being Black In America:" The Role of African American Racial Identity as a Coping Against Racial Discrimination.
William Cross (CUNY Graduate Center)
The Influence of Kenneth Clark's Work on the Development of the NigrescenceTheory.
Gina Philogene (Sarah Lawrence College)
The Interplay of Race and Culture
Claude Steele (Stanford University)
How Stereotypes Shape Intellectual Identity and Performance
Discussion
6:00PM-6:45PM
Saturday, October 13, 2001
Panel discussion: Racism and its Cultural Manifestations
9:30AM-11:30AM
Chair: Ferdinand Jones (Brown University)
James Jones (University of Delaware)
TRIOS: A Model for Coping with the Universal Context of Racism
James Jackson (University of Michigan - Ann Arbor)
From 'Dark Ghetto' to the National Survey of American Life: Context and the Social Psychology of Black Americans
Sandra Graham (University of California - Los Angeles)
Gender, Ethnicity, and the Development of Achievement Values
Jim Sidanius (University of California - Los Angeles)
The Interactive Interface between Gender and Ethnic Discrimination: A Social Dominance and Evolutionary Perspective
Discussion
11:30AM-12:15PM
Part-III: Lessons from our History
Panel discussion: Our Common Destiny
1:30PM-3:30PM
Chair: Barbara Schecter (Sarah Lawrence College)
Thomas Pettigrew (University of California - Santa Cruz)
Racial Integration Today: Revisiting Kenneth Clark's Vision
Fathali Moghaddam (Georgetown University)
The Enigma of Third-World Change
Kay Deaux (CUNY Graduate Center)
Immigration and the Color Line
Fran Cherry (Carleton University)
A Life at the Center of Change: Kenneth Clark and Action Research.
Discussion
3:30PM-4:15PM
Coffee Break
4:15PM-4:45PM
General Discussion
4:45PM-5:30PM
Sponsored in part by The Donald C. Samuel Fund for Economics and Politics