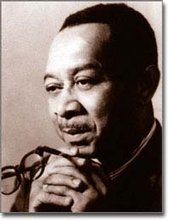 Professor Kenneth Clark is one of America's towering figures in the social sciences. He rose to prominence in 1946 when, in the best Lewinian tradition of action-research, he founded the legendary Northside Child Development Center in Harlem. His work at the center led him to become the NAACP's psychological expert, a role that allowed him to argue convincingly that segregation was harmful to the self-image of people of African descent. His research was cited by the Supreme Court in justification of its landmark decision Brown v. Board of Education (1954) to desegregate American public schools.
During the 1960's, Professor Clark became engaged in community activism in Harlem. As the founder and principal figure in the HARYOU-ACT program (an outgrowth of Northside) and the metropolitan Applied Research Center, his advocacy won the admiration of President Lyndon Johnson who quoted him as the model for the "war on poverty." This placed Clark at the center of the American discourses on race.
Professor Clark was the first African American to receive a permanent professorship at the City College of New York (1942-1975), to be a member of the New York State Board of Regents (1966-1986), and to serve as president of the American Psychological Association (1970-1971). In addition, he is the recipient of numerous honorary degrees, winner of the NAACP's Spingard Medal (ion1961), and the Kurt Lewin Memorial Award by the Society for Psychological Study of Social Issues.
His books include Prejudice and Your Child (1955), Dark Ghetto (1965), A Possible Reality (1972), Pathos of Power (1974), and The Negro American (coedited with Talcott Parsons in 1966).