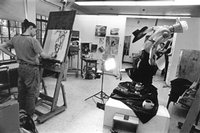 Sarah Lawrence College has selected the New York City based architectural firm of Polshek Partnership, best known for the Rose Center for Earth and Space at the American Museum of Natural History in New York and the recent design for the Clinton Library in Little Rock, AK, to design a new visual arts center.
The design process will engage the thoughts of the students and faculty who will use the building as well as the trustees, alumnae/i and staff of the College. A panel that included alumnae/i in the arts, titled "Critical Thinking, Critical Seeing," helped to set the tone for the new Center that will reflect the College's commitment to interdisciplinary learning. "Interdisciplinary art is, in essence, the key to our contemporary culture," said Nancy Spector, a 1981 alumna of the College and a curator at the Guggenheim Museum in Manhattan. "Artists themselves are moving past specific boundaries."
The Monika A. and Charles A. Heimbold, Jr. Visual Arts Center, named for the donors of the lead gift that has launched the project, will not be "just a building," says Michele Tolela Myers, President of the College that is nationally renowned for its programs in the arts. "The building of the Heimbold Visual Arts Center has been motivated by three factors," said Myers, "student demand, increased impact of visual images in our culture, and trends in the arts themselves."
The Center will allow for a natural integration of the visual arts — drawing, painting, sculpture, printmaking, photography, film and videomaking, digital imaging — and visual culture, including art history and film history. Myers noted that there is a remarkable blurring of the boundaries between art forms today.
"At Sarah Lawrence, the arts are integrated and integral to our unique pedagogy," Myers said about the educational program that highly values creativity and academic rigor. "Our vision for the new building is that it will function like a community, a meeting place for people making and learning about art, no matter what their disciplines are."
The challenging program, the College's commitment to the arts and the prominent site for the building attracted the attention of nationally known architects. The initial selection process resulted in a short list of two architects, who participated in a 5–week design competition. Partner Susan Rodriguez led the Polshek Partnership competition team and will design the new Heimbold Center.
The Monika A. and Charles A. Heimbold, Jr. Visual Arts Center is expected to open in 2004. A capital campaign has raised $16 million of the estimated $22 million it will cost.
Polshek Partnership is known for architectural excellence and for its extraordinary designs for cultural, educational, governmental and scientific institutions.