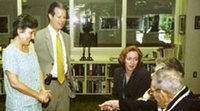 Sarah Lawrence College in Yonkers and The Hebrew Home for the Aged at Riverdale have initiated a partnership to bring college courses to the elderly who live at the Home. The program has received initial funding from the United Hospital Fund.
For Sarah Lawrence, the program offers a new direction to the College's work in continuing education. Taught by Sarah Lawrence faculty and graduate students, this is the first time the College has partnered with an institution for the elderly to bring courses at the same intellectually rich level as at the College. The College's pedagogy, which emphasizes small classes and individual attention, is particularly well suited to older students. "We believe strongly that learning is a life long endeavor," said Michele Tolela Myers, President of Sarah Lawrence. "We are pleased to be able to bring our resources to people whose mobility may not be able to keep pace with their desire to learn."
The Hebrew Home at Riverdale, which has traditionally fostered education between generations through volunteer programs is well known for its art education programs. Through the partnership with Sarah Lawrence, the Home will now bring high-caliber humanities education to its residents. "Our residents are eager to learn," said Daniel Reingold, Executive Vice President of the Hebrew Home. " They have the facilities here – an expanded library and new computer center. Now, the Sarah Lawrence collaboration is adding another dimension to our education thrust. Older people teach but are also enthusiastic students."
This past spring a pilot course for nine residents launched the project. The students, aged 70 to 90, studied creative writing focusing on the techniques of writing fiction and poetry through readings and assigned exercises. The courses, held in the Home's library, included homework assignments.
"It was a privilege to work with people at this stage in their lives," said Alexandra Soiseth, a teacher at the Center for Continuing Education and a graduate of Sarah Lawrence College's MFA program in creative writing. "They brought the richness of history to their stories and poetry. I may have been the teacher æ but they taught me about the length and fullness of a life."
This fall, in addition to creative writing a new political science course will be taught to classes that are expected to fill to capacity. Additional grants to support the expanding program will be sought by the two institutions.