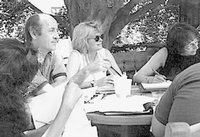 Billy Collins, a member of the College's graduate writing faculty, has been named the nation's next Poet Laureate. James H. Billington, Librarian of Congress announced the appointment for the one-year post, which begins in the fall.
Collins has been a member of the Sarah Lawrence College graduate writing faculty since 1997 and has taught in the College's Summer Seminar for Writers. He is a Distinguished Professor of English at Lehman College, City University of New York.
Of his appointment - the Library's eleventh Poet Laureate Consultant in Poetry - Dr. Billington said, "Billy Collins's poetry is widely accessible. He writes in an original way about all manner of ordinary things and situations with both humor and a surprising contemplative twist. We look forward to his energizing presence next year."
Collins's books of poetry include Picnic, Lightning (1998); The Art of Drowning (1995); Questions about Angels (1991); The Apple that Astonished Paris (1988); Video Poems (1980); and Pokerface (1977). His next collection of poems, Sailing Alone Around the Room, is scheduled for release this fall from Random House.
Billy Collins is the fifth Consultant in Poetry to the Library of Congress to have taught at Sarah Lawrence. His predecessors include Leonie Adams who taught here in the 1930's, Randall Jarrell, Robert Fitzgerald and Stephen Spender, all who taught at the College in the 1940's.
In his role of Poet Laureate, Collins will open the Library of Congress's annual literary series in October with a reading of his work. The poetry and literature reading series at the Library is among the oldest in the country. Increasingly in recent years, Poets Laureate have sought to find new ways to broaden the role of poetry in national life. In an interview with The New York Times, Collins said about his selection, "I hope to put my own spin on it, to add my touch to the laureateship. How that is going to be done except for activism and engagement in Washington, I'm not sure yet. I'm all for a wide number of people reading poetry and I've tried to make that clear in every poem I've ever written."