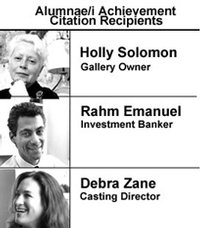 During the 2001 Reunion, the College awarded Alumnae/i Achievement Citations to three graduates who reflect the range and diversity of Sarah Lawrence interests. They are Holly Solomon '55, director of the Holly Solomon Gallery in New York City; Rahm Emanuel '81, a finance director who served in the Clinton administration; and Debra Zane '83, an award-winning casting director.
Holly Solomon '55 is a New York art-world legend, known for her role in discovering and promoting what she terms "cutting-edge art, the kind that encourages real thinking as opposed to neurosis." She opened her first gallery in Manhattan in 1969 after beginning her own collection, and over the years has exhibited such notable figures as Robert Kushner, William Wegman and Nam June Paik. Solomon recalls Sarah Lawrence as a college that taught her to "take risks and do the unexpected."
Rahm Emanuel '81 became a familiar figure during the Clinton Administration, when he served as senior advisor to the president for policy and strategy, helping to coordinate the passage of such provisions as the North American Free Trade Agreement. Emanuel was also executive director of the 1993 Presidential Inaugural Committee and national finance director for the 1992 Clinton-Gore Presidential Campaign. He is currently managing director of Dresdner Kleinwood Wasserstein and sits on the boards of Freddie Mac and the Chicago Housing Authority.
Debra Zane '83 has cast such films as Traffic, The Legend of Bagger Vance, Wag the Dog, Men in Black and Get Shorty. She is the recipient of the 2000 Casting Society of America's Artios Award for Outstanding Achievement in Feature Film Casting (Drama) for her work on American Beauty. Zane concentrated in theater at Sarah Lawrence, studied acting after graduation and was hired by casting director David Rubin. In the mid-1990's, she opened her own firm and has worked with some of the most outstanding directors and actors in Hollywood.
Jeffrey Engel '84 The Board of Directors of the Alumnae/i Association will honor Jeffrey Engel, a former member of the Young Alumnae/i Committee, with the first annual Young Alumnae/i Committee Citation for Service. Engel was chosen to receive the award for demonstrating the ideals of the committee and a true dedication to the College and its mission. Engel, who graduated in '84, was one of the founding members of the Young Alumnae/i Committee and has continued to remain active in an advisory capacity for the past two years. He most recently served on the Alumnae/i Association Board as treasurer and will assume the position of Chair of the Nominating Committee this fall.