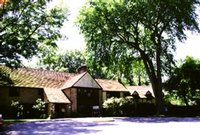 The Porrath Foundation for Patient Advocacy, a recently established foundation based in Los Angeles, California, dedicated to helping cancer patients navigate the maze of cancer related medical and personal issues, has made its first scholarship awards to Sarah Lawrence College. An annual $10,000 fellowship will support students in the College's graduate program in Health Advocacy who pursue careers on behalf of cancer patients.
The Porrath Foundation Fellowships for Cancer Patient Advocacy will allow one Sarah Lawrence health advocacy student every year to work as an unpaid intern in a clinical cancer setting. "Most internships in these non-profit settings do not compensate the students," said Marsha Hurst, director of the Sarah Lawrence program. "These fellowships will allow students who otherwise could not afford to work in this field during their studies to do so."
Theresa Foster, who is doing a joint health advocacy and human genetics master's degree at Sarah Lawrence, has been chosen to receive the first fellowship. She will be interning this summer at the Breast Examination Center of Harlem (BECH), a community program of Memorial Sloan Kettering Cancer Center, working under the supervision of Diana Godfrey, Director. Foster will be working with patient navigators and patient educators at the Center to learn how to advocate for women who screen positively for cancer.
While health advocates can help many patients and their families, the role played by these professionals is particularly critical for cancer patients. According to Toni Bernay, PhD, President of the Porrath Foundation, "cancer is an overwhelming and consuming experience for patients and their caregivers. This is where Cancer Patient Advocates are invaluable. They can immediately activate their energy, expertise and referral sources to help the patient, caregiver and his or her family, to do their best to manage the process and outwit cancer."
The Foundation's mission is to "provide knowledgeable, compassionate expertise and guidance that will enable cancer patients and their families to understand the information and options presented to them, participate proactively in the process and make effective choices and medical decisions as they move through treatment and recovery."
The Porrath Foundation was established in 1999 by Saar A. Porrath M.D, a renowned breast oncologist, whose personal experience with cancer during the last years of his life motivated him, together with his wife, Toni Bernay, Ph.D, a psychologist, to establish a foundation that would promote cancer patient advocacy, train cancer patient advocates and make them readily available to the public.
Sarah Lawrence's Graduate Program in Health Advocacy focuses on the needs of individuals within the health care system and prepares its students for professional positions in hospitals and other health care institutions, advocacy organizations, and governmental agencies, community organizations, industry, managed care organizations, categorical disease foundations and schools. A pioneering field, health advocacy involves working directly with the client and family as well as interacting knowledgeably with health care providers, facility administrators and community agencies.