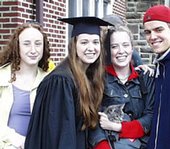 Alumna Barbara Walters addressed the Sarah Lawrence class of 2001 giving advice, not just her own, but that of some of the luminaries she has interviewed over the course of nearly 40 years as one of the most acclaimed journalists in history, to inspire the graduates of her alma mater.
College, she said, "is about the joy of growing, and testing, and thinking, and not being afraid to ask those questions, finding out, exploring, adapting, maybe even failing and trying again. That is what you learned here. No matter what the subject, this college has given you the tools - as no other college can in quite the same way - that will last you all your life. They have in mine."
Walters drew on her own life and those of others who she has interviewed to illustrate her points, finding inspiration in the experiences of Colin Powell, Margaret Thatcher, Katharine Hepburn and Christopher Reeve.
"First and foremost, as has been said, and it needs to be said again and again, you must find something you love to do."
Walters also advised students that they "must never stop learning," a theme that echoes the annual senior lecture which was given earlier in commencement week by political science faculty member Raymond Seidelman, selected for the honor by the graduating students.
In recognition of her tremendous contributions as "a gifted, pioneering professional whose hard work has changed the way television covers both news and newsmakers," the College awarded Walters an Honorary Doctorate of Humane Letters.
Also addressing the students at the College's 72nd Commencement were President Michele Myers, who gave an inspiring charge to the graduates; Trustee Chairman, Margot Bogert; writing faculty member Thomas Lux who read one of his poems; senior co-presidents Lisa Pryne and Mathew Cardente; and representative of the graduate students, Mary Cornish, whose remarks celebrated the individuality of every student.
Barbara Walters Delivered Commencement
Address At Her Alma Mater
I am here today to inspire you. That is a tough assignment, but I have had tougher assignments. So let me tell you a story. Years ago, when I was on the "Today" show -- and that was a long time ago - I used to live in an area of New York where Carnegie Hall is, if any of you know that. And it was also an area in which there are a great many hotels, and because there are a great many hotels, there are also a great many, at that time, ladies of the evening. And I used to leave very early in the morning, 4:30 or 5:00 a.m., and I would come downstairs wearing dark glasses because I wasn't made up yet, and I would be carrying a little suitcase. And I would come on the street, and the ladies of the evening would look at me, and I would look at them, and even then I wasn't a kid, but I would go into this long black limousine, and I would drive off into the dawn. And I gave them hope! Who knows? Perhaps I inspired them as well. Although heaven knows what they thought when I left NBC and went to ABC and stopped going to work at the crack of dawn. I always felt that I should have gone back and told them that it was okay, that I made good.
Well, as you have heard, I am an alumna of this amazing college. It was just after the Civil War that I graduated from Sarah Lawrence. It was so long ago that people didn't dare laugh when I told them that I lived in Titsworth Hall. Someone said to me, "It's a great name, but what do you tell your parents?" Although we did have a song we sang, which you may still be singing. I have laryngitis, but I insist on sharing this song with you, and it went like this - you'll have to tell me if you still sing it: "My girl's from Titsworth, she' really down-to-earth, I get my money's worth, from progressive education." If this address is being recorded, I will kill myself.
Well, although I can still remember those words - heaven knows how - I don't remember all that much about the courses I took, and this is what I want to share with you. There was a time when I really didn't think that I had learned that much here at Sarah Lawrence. In four years of college, I never took a science course - no physics, no chemistry, no biology; I never took language, I never took math, I never took art. I think today, if I had taken some of these courses, I really could have made something of myself. I also found Joseph Campbell's famous course on myths to be obtuse, and yet all these years later, I remember one line he said, which is, "The privilege of a lifetime is being who you are." I also remember very well his philosophy of life and work, which was, "Follow your bliss." Now, that's the hardest thing to do.
I was very, very happy here at college. I have been competing all my life, but here at college, I didn't have to compete. It was a wonderful time. I knew that I was cared for, I asked questions, no one got mad at me, no one told me to shut up. I made friends here, as you have, who will be a part of your life for years and years to come. Some of them are still here today. But as I sat where you are sitting today, I was glad to be graduating, but confused and more than a little apprehensive, for I hadn't a clue as to what I wanted to spend the rest of my life doing. All around me were brilliant students, I thought, planning to get an advanced degree in social work or medicine, or joining a dance group, or acting, or painting, and I was none of the above.
And the very first piece of advice that I want to give you is this: It doesn't matter. You will be asked a dozen times today, and in weeks and months to come, "So, what do you want to do?" It is all right. You are okay even if you don't see your future in clear print, even if you want to chill out for a bit. I didn't start my career in television until I was almost in my thirties. As a matter of fact, how many of you looking up at me from the graduating class actually know what you want to do? Raise your hands. Pretty good. Now tell me the truth. How many of you haven't a clue? Okay. Don't despair, take heart, because that's what it's all about. For both of you - the ones who do and the ones who don't know yet - it is about the joy of growing, and testing, and thinking, and not being afraid to ask those questions, finding out, exploring, adapting, maybe even failing and trying again. That is what you learned here. No matter what the subject, this college has given you the tools, as no other college can in quite the same way, that will last you all your life. They have in mine.
But I don't just want to give you my advice, because I have been blessed with a career that spans almost forty years. I have interviewed every American president since Richard Nixon, I have talked with heads of state from all over the world, with great artists, with many scoundrels, and a few murderers here and there. Thinking of your graduation today, I wanted to share some of the words of those who impressed me most but I don't just want to tell you the story of my career here, but of some of the people whose advice may, I hope, inspire you and lead you to different directions.
General Colin Powell, who is today our Secretary of State and man who many wanted to see become our president, had no idea what he was going to do with his life. All through high school, people thought he would never make it. And even when he went to college, he still didn't know. And it was something that had nothing to do with his curriculum that turned him on. In his words, "Once I was in ROTC, everything just clicked. All the lack of direction that I had failed to have earlier went away, for I suddenly found something that I liked doing and, more importantly, I did it well. I felt then that I could lead." And I asked him then, "What is your idea of leadership?" And his answer: "Leadership, in my case, is the ability to solve problems. One of my greatest skills is that I can solve problems for others. And that doesn't mean that I don't have views and visions of my own. And because I don't rant and rave, and I tend to chip away at problems, people sometimes mistake my motive. I have been reasonably successful in getting what I want and achieving what I wanted to achieve here in Washington, or otherwise, Barbara, you would not be sitting here today.
I wanted to talk to you about one of the great women of the last century, Prime Minister Margaret Thatcher. She was Great Britain's first and only female prime minister, and the longest-serving prime minister in the twentieth century. Whether you approve or disapprove of what she did, she was, in her own way, a leader and a woman who achieved greatness. Her advice: "You never just go and do something because someone else is doing it. That is wrong. You never just follow the crowd for the sake of following the crowd, because you don't like to stand out. You make up your own mind about what is right, and then you try to persuade other people to follow you. It was quite a tough thing for a young person to learn, but it has stood me in very good stead since.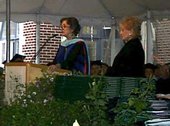 And then her own party ousted her - not just her countrymen, but her own party - just like that. She was in France; when she came back, they took several votes, and they voted her out. Perhaps because she had too much hubris - there wasn't one member of her cabinet at that time who had been in her cabinet when she first took office. Perhaps because she was a bully by that time. Perhaps because it was just time for a change. But she went into a deep depression. It was a terrible shock for her. And I did the first interview with her after she left office, which was about six months later. She said, "It's traumatic, it really is. You're so busy doing things, you don't realize it until you're out. And it comes in strange ways. Even now, when we're driving down Whitehall toward Westminster, or to go home, which is not very far away, all of a sudden my mind still thinks, we'll turn right into Downing Street, and then I realize we're not going to. It's the habit of years which gets you. The telephone goes, and immediately you think, oh, goodness me, the United Nations is sitting, I wonder what's happening? And you'll hear something on the news in the morning and you think, oh, we can't have that! I must pick up the phone, I must inquire what's happening, and we really must make a statement about it. I leap up to dial the telephone, and then I realize it is no longer me anymore." I'm quoting Margaret Thatcher because failure does come, and you have to pick yourself up and go on.
I can't believe that it was before you were born; however, when I left NBC, where I had been very successful, and came to ABC, as the first woman co-anchor of a network news program - a dubious distinction - I had a partner who didn't very much want me as a partner, and the news in general didn't much want a woman, and I was a terrible failure. I was a single mother then with a seven-year-old daughter, who has grown up and is here today. I was drowning and I had no life preserver. And I had to work my way back. And it was probably the best thing that happened to me, because it taught me that it wasn't just luck, that I could do it, and it was a very important lesson. And I hope none of you fail, but if you do, in its way, if you work it right and look at it right, and work your way back, it will be the best thing that could have happened to you.
I have picked an actress to talk about, the wonderful Katherine Hepburn. Independent and strong-willed, a woman who never seemed to have any trouble making up her mind, she was very definite - she is very definite - and she sees things in black and white. And she knows what's right, and she knows what's wrong. And she said to me . . . she did very few interviews, but she said to me, "Now, you know what's right and wrong, don't you?" And I had just come back from doing a great many interviews in the Middle East, with Yassir Arafat and the Prime Minister of Israel at that time, Yitzhak Rabin, and I said to Miss Hepburn, "Well, I don't always. Sometimes I see things in shades of gray. And she said, "Well, I pity you!" I also remember I asked her at the time - because she always wore pants and a sweater - I said, "Do you ever wear a skirt?" And she said, "I'll wear one to your funeral." I said, "I'm happy to know you'll be there." But I loved Katherine Hepburn.
At the time, I was having a lot of thoughts about choices, and I think that you will find in your life that many of those choices still remain. So this is Katherine Hepburn, when I asked her, "Can you have a career, and a marriage, and children?" And she said, "Well, you couldn't when I started. At least you couldn't have a marriage that would please me. The ladies are going to have to be careful that they don't all marry morons." And I said, "Why?" And she said, "Well, because they don't deliver the goods as wives. I mean, I put on pants 50 years ago and declared a sort of middle road, you know. But, I mean, I have not lived as a woman; I have lived as a man." And I said, "How?" And she said, "Well, I've just done what I damn well wanted to, and I've made enough money to support myself, and I ain't afraid of being alone." And I said, "Is it so hard to have it all - the marriage, the children, and the career?" She said, "Well, I think it's impossible. If I were a man, I would not marry a woman with a career, and I would torture myself as a mother. I mean, suppose little Johnny or little Katy had the mumps and I had an opening night; I'd want to strangle the children. You see, I would really want to strangle the children. And I would be thinking to myself, God, I've got to get in the mood, and what's the matter with them, and out of my way! You see, a career is fascinating. I don't know what the hell the women are going to do." And I said, "So you feel you have to make a choice?" And she said, "Well, I think you bloody well make a choice."
Okay. Times have changed, but it is still a balancing act. The great difference today is that men as well as women are into this balancing act - first of all, because there are more and more men who are helping the women, staying at home, taking care of the children, doing all of the things that women do as well; and struggling with finding the same choices, of balancing a career and a personal life, especially when there are children. And sometimes - yes, sometimes - you bloody well have to make a choice.
And finally, I want to read you some words from one of the most extraordinary men I have ever met. And I read his words to you because on this day of your glory and happiness, you should know that if ever things don't quite go your way, you can live through it. You can survive, and you can make a life of purpose. I want to talk to you about Christopher Reeve. Christopher Reeve was a fine actor who became famous playing Superman in films. And in real life, he was a superb athlete. He skied, he had his own boat, he loved almost every athletic pursuit. And, most of all, he was a skilled horseman. Until 1995, when, in a riding competition, his horse failed to jump over a hurdle and fell. And Christopher Reeve fell, too, and found himself totally paralyzed from the neck down.
When he was in the hospital, full of tubes, and there was still a chance to make a choice, his wife came in to him. They had a three-year-old son. And she said, "Chris, if you want us to pull the tube, we will. But I want you to know that you are still you, and that I love you. And the choice is yours." And he made the choice to live. He is still, to this day, totally paralyzed from the neck down. He talks through a tube in his throat, and he takes the air in and can talk until the air comes out, and then he takes the air in again.
I did the first interview with him five months after his accident. I didn't know what to expect, and our audience didn't know what to expect. Were they going to see something out of Edgar Allan Poe? Is this going to be too ghoulish? We ran the interview for the full hour of the program. We ran it again and again. What they saw was a handsome man, with a smile, sitting in a wheelchair, and saying this: "You also gradually discover, as I'm discovering, that your body is not you, and the mind and the spirit must take over. And that's the challenge as you move from obsessing about why me, and it's not fair, and when will I move again? And you move into, well, what is the potential? Now I see opportunities and potential I wasn't capable of seeing, because every moment is more intense and valuable than it ever was. I've received 100,000 letters from all over the world, and it makes you wonder: Why do we need disasters to really feel and appreciate each other? I'm overwhelmed by people's support of me, and if I can help people understand that this can happen to anybody, then that is worth it right there. So I really sense being on a journey."
I said, "Do you think you will walk again?" And he said, "I think it's very possible that I'll walk again." "And if you don't?" "Then I won't walk again." As simple as that? "Either you do or you don't. It's like a game of cards. And if you think the game is worthwhile, then you just play the hand you're dealt. Sometimes you get a lot of face cards, and sometimes you don't. But I think the game is worthwhile, I really do.
Since then, Christopher Reeve has made a life with his wife and three children - he had two from a previous relationship. He lectures, he directs films, he flies all over the country, and that's not very easy - he needs all kinds of special equipment. He has raised millions of dollars and raised the consciousness of scientists to promote research into curing the thousands and thousands of people who suffer from spinal cord injury. Before Christopher Reeve, there was very little money for research because people felt that it was such a hopeless disease, and it may very well be that in his lifetime, or the lifetime of his children, people with spinal cord injuries will walk again. Christopher Reeve's life, though very hard, has meaning and purpose. Nor does he think that this was God's will and that this is why he was put on earth. He says, "It just happened. Things happen."
This, therefore, is the advice I most want to leave you with. Not everyone can be a movie star; not everyone can be a leader. These days, it seems that few want to, especially in politics. But we can learn from the leaders and from the independents, and this, finally, is what I have learned. First and foremost, as has been said - and it needs to be said again and again - you must find something you love to do. You may not know it now, but you will find it. Follow your compass; follow your gut. You must think for yourself. You are young, but you must realize how precious life is. Laugh and enjoy, and cheer yourself on in the times of adversity. You must never stop learning. You have had four years at an amazing school, and though this is called a commencement, it is, of course, for you, a beginning.
One of my favorite quotes from the French author Emile Zola was this. He said, "If you ask me what I came into this world to do, I will tell you, I came to live out loud." I congratulate you for your achievement today. I thank you for giving me the privilege of talking with you. I cannot tell you how emotional today is for me. It is a day that I won't forget. Looking at all your faces - and I can see you all very clearly - I look at you with envy, and with affection. And I just know that whatever hand you are dealt in life, I hope that you will find the game really worthwhile - and I think you will.
Thank you.
Raymond Seidelman Delivers
Senior Lecture: A Life of Learning
A couple of months ago, Michele called and asked me to give this talk, since some plurality of you seniors had wanted me to say something on the occasion of your near-Commencement. I really hesitated to say yes, but then at the urging of my wife, Fay, I agreed to do it. It's a great honor and if you know me you know I like to talk. Usually words come easily, but the subject here is a life of learning presumably this is what my life is supposed to be. The presumption is that something might be learned from my life that perhaps you wouldnt discover unless what I say now is effective.
It's tough to remember any particular lecture which had an impact on me, and I remember sleepwalking through Commencement when I was your age. People are asked to give this kind of talk only when they've reached a certain age. I still think of myself very much as a work in progress: the same guy I was when I was 22, while in many ways not the same. Whether or not the difference is learning, I'll leave you to judge. Actually, one of my favorite films is Bill Murray's Ground Hog Day. Fated by unknown forces to live the same day over and over again, Bill Murray comes to believe that there's nothing new under the sun. But if that film means anything — one day Murray did wake up and Ground Hog Day was different, and it transformed his life forever. Don't ever sleep through revolutions; your ironic detachment may lead you astray.
So here I am — this talk may self-destruct in 60 seconds.
One thing I can say from the outset: My life of learning is hardly cumulative. I am not becoming wiser as I age. Nor, contrary to dominant theories of social science, am I more settled and conservative. At various times in my life, I've inspected and built sewers, picked lettuce and strawberries, waited on tables, bused dishes, cut timber in the Sierras, served as an aide to a member of Congress, run a campaign organization, hitchhiked in Asia and the UK, lived for a total of almost a decade in Turkey, Italy, China, and Korea, traveled throughout Southeast and North Asia, run wild rivers in the West, and wheezed my way up some pretty high mountains in British Columbia and Nevada. I was lucky to go to a great public institution, the University of California, which before Reagan got to it was something of a model of public commitment to public higher education. This was lucky, since nowadays the public sphere is threatened and beleaguered.
Later, I took the fork in the road which at the time I didn't know was a fork in the road — I went to graduate school instead of law school. The main reason was that it was also free, and that I loved politics, my subject of study. I took a lot of risks in my younger days, and I'm not sure I've gotten over that penchant since. For the last 20 years, I've taught at this special college, and while I love it sometimes, there's still a kind of yearning to run a three-wheeled Harley at 100 mph over a rutted country road. Don't try this in Bronxville —that's one lesson from a lifetime of yearning and learning.
Quite a jumble, no? Hardly worthy of emulation, unless you like a would-be Jack Kerouac who hasn't yet died. I managed to avoid the Vietnam war and the draft due to a twist of fate, a good lottery number and a student deferment, which I always felt badly about taking. I've written a couple of books, thought up many more that I've never done, and have fantasized about living in the l9th century as a social democratic member of Parliament, instead of this crazy century and often impossible country where a guy like me couldn't get elected to be a county legislator.
More recently, I've gotten married, raised two daughters, and try, with some successes and a few failures, to be a good dad in Ossining, New York. Like most people, I sometimes wonder if I've gotten more than I really deserve — to be alive, to be a privileged white guy teaching at a great college at the center of the American imperium. In conventional terms, and when I list this jumble of experiences, it seems like a somewhat unconventional and kinda interesting life for my generation. Born to modest but definite comfort, I'll probably die that way too. Not too untypical, but not too typical either — a child of the 1960s indeed, now with the paradox of discovering where mildly bohemian baby boomers might retire with grace.
Fortunately or unfortunately, just these bare facts of my existence don't really reveal very much about what I learned, or when it started. Lives aren't resumes, and you can't learn much from a listing of activities, or even by planning them, really. They are matter of fortune and, with luck, matters of choice. Lives depends on what you make of them, even when they're not particularly ennobling. And they depend on lots of people, who influence you more than you realize. As much, a life depends on when and where you were born: some are lucky to live in interesting times and are born with the opportunities to realize that. One of the greatest problems with our civilization is that our institutions and our dominant ideas tend to make "lives of learning" into exclusive goods, a privilege rather than a right, even when there are enough resources to go around. And that is a great dilemma for a country that pretends to be a democracy.
Like many of you, I came from a background of modest privilege; this perhaps has helped me see the limitations and advantages of this kind of background. Until the time I was 11, I had never talked to a black person for more than five minutes. That was l962; where I grew up, a cheerful postwar suburb of San Francisco called Menlo Park, it was entirely possible to live a normal existence without ever venturing outside my school, Little League, or the very tight circle of Irish Catholics that made up my parish. My life up to that point had been a round of activities typical of that era — I remember long summer days playing "over the fence" with three or four friends; on hot days, we were sometimes invited over to swim at a neighbor's. I delivered the Palo Alto Times to 100 customers to make money so that I could go bowling and sit in the bleachers for 90 cents at Candlestick Park watching Willie Mays play center field. In those days, it was kids on bikes who delivered your paper. It had not yet become a job for adults driving in cars to support their family. Every summer, my family and I packed up the old Ford station wagon; we trooped up to Yosemite at a time when the journey took 12 or more hours on windy, two-lane roads. Our vacations would be at a campsite near Vernal Falls in Yosemite Valley.
But one summer we did something pretty daring: my father proposed a cross-country car trip to see his sister in Tampa, Florida. This was quite an undertaking in those days — two-lane highways for 3,000 miles, no Interstates, and every downtown and small-town in Arizona, New Mexico, Texas, Louisiana, Alabama, Mississippi and Georgia. I don't remember all that much about the trip in terms of tourist sites, but as we moved east, I felt like an alien on another planet. We pulled into towns with our California license plate to hostile stares from guys sitting around gas pumps or outside cafes. Only when the six of us emerged, four of us kids, would people lighten up.
Somewhere in Demopolis, Alabama we stopped at a gas station in a torrential rainstorm. After 30 seconds or so, a figure emerged from the office with an umbrella; my dad rolled down the window an inch and said fill 'er up. The kid was a black teenager, just a bit older than myself. He filled up the tank, and we were going to pay him, when an older white guy emerged from the office, slammed the black kid against the car and stripped him of his umbrella. My dad rolled down the window and asked what was the matter. The white guy stuck the black kid's face into our car, and said -- "now you apologize, boy, to these folks for not checking their oil and cleaning their windshield." The black kid mumbled something, and the white guy withdrew his head and threw him on the ground.
Maybe this was the moment I realized, with Dorothy in the Wizard of Oz, that "Toto, we're not in Kansas anymore." Looking back on what, I eventually learned, was a routine example from the rural south in 1962, I could feel angry at my parents, teachers and community for not preparing me for this, and angry at my dad, who just drove off from the gas station scared and shaken.
But I didn't feel angry; when I got back home to Menlo Park, I just felt different. And I began to feel a little isolated in my comfortable home town, for I started to wonder how people could be so oblivious when such bad things were happening to people elsewhere. I still enjoyed my town, but the TV news and the Palo Alto Times took on new meanings — I saw people like that black kid being assaulted and hosed down on TV, and only for asserting rights that my family and I took for granted.
I resumed my pleasant childhood, but noticing things around me that I hadn't before. I wondered why we had to practice nuclear air raid drills every week in our classroom; in those days, we were separated into two groups — those who could get home in a half-hour or less after a nuclear alert was sounded, vs. those who'd stay behind at school. We were assured that those who'd stay behind would be taken to the nearest fallout shelter to await the nuclear blast, while those who made it home would have nearby fallout shelters or could use their own. I doubted this. To me, the idea of putting my head between my legs when I saw the brilliant flash of a nuclear explosion was a little strange: was I supposed to kiss my ass goodbye?
I also wondered why everyone I knew was pretty much the same — why, for instance, were there no blacks living in our neighborhood or going to my Catholic school? People told me that black people lived on the other side of town.
One day I read a notice in the paper that a meeting was going to be held in an Episcopalian church to support the Fair Housing Act, a bill which banned race discrimination in housing sales. I rode over to East Menlo Park, about three miles away, crossing the usual multi-lane highways that separate the classes and races in American suburbs. My friends told me that it was a real mistake to bike over there, but I did it anyway and entered the church. I was the only white kid. People were singing gospel music, and I felt uncomfortable. But as they sang I sensed a kind of power around me, a kind that I had never experienced before. People looked at me a little strangely, but later an older guy asked if I wanted to go to the pancake breakfast afterward. After that, I lost my distance from black people, because they lost their abstraction and became real. That kid in Demopolis, Alabama wasn't a stranger: he became the kind of person who'd shared pancakes and syrup with me in East Menlo Park.
Later that fall Kennedy, a hero to both of my parents and to most people they knew, was killed. We were Democrats and Catholics, and he was our tribune. I remember how the nuns broke the news to us over the P.A. system in my school. I was sitting next to Louise Tipton, and when the news came through that hed been shot in Dallas, I told Louise that of course it was the South where someone like him would be shot. The South became my anti-America from then on, until I learned much later that the South was part of us, and we were part of it.
During Kennedy's funeral on TV I went out and practiced shooting my BB rifle in the backyard. I always aimed at birds, but if you've ever used a BB gun, you know that you rarely ever hit anything you aim at. This time, however, I hit a robin. As it writhed in pain, I felt complicit in Kennedy's murder, and in a deeper violence whose source I didn't know.
Life has a strange way of making unrelated events converge for mysterious reasons. Just after Kennedy died, my sister was diagnosed with an unusual cancer. It turned out that the probable cause was radiation doses she'd received as a baby to overcome a minor thyroid problem. At that time, some kids were given routine doses in the mistaken belief that radiation was pretty safe, part of what became Dwight Eisenhower's Atoms for Peace program — brought to you by the same constellation of interests from government and private industry who today want to tell you that toxic sludge is good for you.
Over seven months, my sister Susan gradually weakened and died. I used to sit in her room, and we would talk as she lay in bed. As she got worse, she became gentler and asked me more about myself than she ever had before. During her illness, she had me go out and buy stuff for her. As Susan grew weaker, she liked Joan Baez and Pete Seeger more and more. She wanted me to read poems to her, and usually the choice was Beat poets like Ferlinghetti and Ginsberg, guys I'd never heard of before. After Susan died, I remember going through her stuff and saving all the folk music and poetry for myself. I still listen to it. Today, I wonder if she'd be a comrade of mine and what she would have done had she lived. I like to think she'd be on the same side.
I've spent so much time on all this for a pretty simple reason. In those two years, I started to learn to think of the world a little more self-consciously, to question the boundaries of the bubble in which I had been raised. Now this is a conventional discovery, undergone by millions in the l960s and all times, but over the years my own questioning began to be shaped in ways somewhat different from those of many, perhaps. It was not a question of rejecting what I was or how I'd been raised, most especially if it meant rejecting my parents, my friends, my teachers. They all seemed like loving people, capable of change and learning, too — indeed, one of the things that I appreciate now is how their deep Catholicism eventually brought most of them to learning, too, though of a different sort from the form mine took. In those 60s days, I came to understand how immense generosity and power and dignity could be often combined with complacency and, sometimes, even indifference to enormous violence and to evil — that these were often intertwined in others and me, in my bubble, and in the larger world outside of it. They couldn't be so easily disentangled one from another, for the same humans who produced those scenes in Demopolis and Dallas also somehow could produce my sister and my experiences in that East Menlo Park church.
While I never thought about it this way until much later, and its a less-than-crystal clear thought even now, my life of learning is partly about expanding boundaries yet not forgetting where I come from, not rejecting the world — that particular bubble — in which I was raised. This has often meant living in contradiction, or at least living on those lines that often run parallel and never meet in our society: lines between races, lines between classes, religions, neighborhoods, lines between the politics of cultural protest and the mainstream straight politics of elections. For me, my life of learning has meant containing my often blind rage against the accumulate "powers" of elites that dupe, delude, snare and, sometimes, send us to our deaths, if only unconsciously and through what they do in institutions every day of the week. Often I feel rage. But maybe learning means that rage must be shared and articulated, and in the process it becomes a cause and is tempered into the slower work of persuasion, conversation, empowerment of us all. I might add: walking these lines often doesn't bear results, but it helps to feel fully human nonetheless.
I got help, if only sometimes inadvertently. After my sister died, my parents, I think, were looking to get out of where we were. I think that my parents couldn't stand to be in the same house where my sister had been raised, and where she had died. Their grief led my dad to apply for a job in Turkey, as a media advisor at an American college in Istanbul. So we went to Turkey. It was a long way from Menlo Park, an utter change from the secure world of the San Francisco suburbs. During those two years, between l965 and 1967, the America I knew was to change in many ways that were puzzling to me, just as I was to be transformed as well. I went to a Turkish high school, where I was a spectacle. I learned how to smoke, a habit I haven't yet shaken. It was my entrée into Turkish male society, at only five cents a pack. I spent my days off hitchhiking or visiting old Byzantine churches that had been turned into barns and apartment buildings. I spent a lot of time throwing dice in tea houses; no matter where I was, and against my own desires, I was always seen as an American — a label which I came to accept, if also wondering about what, exactly it meant. Most of my Turkish friends saw Americans as history-less, wealthy, one-dimensional and quite dangerous children, and themselves as poor, full of history, two-dimensional and peaceful. During my time in Turkey, I found myself not so much defending my country (though I sometimes did) as realizing that for good or ill its actions were the source of misery, love, hate and wonder for many people who had not a whit of control over what it did. In a way, I was stigmatized. I came to accept this stigma, being an American, as an inescapable accident of my birth. I continue to go abroad, for it helps me understand what it means to be an American. Narrow? Perhaps.
College at Santa Cruz was like going abroad too. I was able to understand this dilemma intellectually for the first time. In fact, this is what college was for me: a way of understanding that I was hardly the first to feel these thoughts, to think about patriotism, nationality, democracy. Indeed, they had been the stuff of human history. I was interested in a lot of things — the French Revolution, Marx, Machiavelli, the American populists, China, the rise of socialism, the nature of war and the origin of states. I was lucky to have three famous teachers, but I didn't know that they were famous at the time, and in retrospect my love for a Sarah Lawrence-style education comes from the care and attention they gave to me: Norman O. Brown, the political philosopher Sheldon Wolin, and the late political scientist Grant McConnell — they continually read my papers and made careful marks on them. In various ways, each of these teachers taught about power, states, domination, capitalism, desire, passion and its sublimation. But in other ways they also taught about democratic community — the possibility of societies and polities that bring out the best in humanity, instead of the worst. They made me think about democracy not as a formula with a written formal constitution and a mechanical being, but as something citizens do that makes them nobler and richer as the qualities of reason, passion, debate and conflict, and the possibilities of community, emerged. To a large extent, my teachers also taught me that democracy was a fragile plant indeed, but an alive being nonetheless. And to distrust those who equated democracy with money, power, armies and experts — the same folks who brought us Vietnam as a supposed "war to extend democracy."
For 20 years I have now been teaching, and from supportive students I've always gotten the question: "Okay, that's your critique, but what's the solution?" I asked the same questions of my own teachers. I've learned now that their answer was right: Democracy is not what we have, it is what we aspire to be. So dare to aspire to it, for in the process you become a democratic citizen. It takes courage to live as a democratic citizen, and that's why we fight for it; this will involve you in great risks, but it's worth it because it will make you free.
For me, being a democratic citizen is not a painful obligation, but something that you can practice just about everywhere that there are people. You've got to listen, persuade, empathize, emote and reason with people whether they're like you or unlike you. It involves lots of continual self-questioning, and committing to things even though you've got doubts and don't want to leave your brains behind. It means defining the self not as a mysterious atom to be dissected, but something to be discovered in conflicts, debates and community.
In this society, it also means failed crusades, or crusades where you thought you failed but in retrospect you didn't. In college, I was a delegate to George McGovern's nominating convention in l972 — one of the youngest. The McGovern campaign was so desperate that they made me a co-chair of the l972 campaign for Santa Cruz county. I worked hard, and over a period of six months visited farm workers and junior colleges and walked beachside neighborhoods. On the University of California campus, McGovern won by 2,900 to six against Richard Nixon. He also won Santa Cruz county, but lost the election by the second largest margin in U.S. history.
How, given my faith in democracy, could I go on? Hadn't my politics just become another bubble? Maybe, but when I went back to both my former jobs — in a kitchen and on a sewer crew — the cumulative result of my many conversations was a little different. It wasn't that people hated McGovern; it was that politics was so utterly alien and distant to most of them that it might have come from the moon. A conservative working class? No, but citizens who, day after day, spent most of their time just getting through the workday. Everything about work and the lives they led, I thought, was structured to keep them away from even remotely political conversations. That said something about the gap between our aspirations and our realities.
It has turned out that the search for democratic understandings was much more complicated than I had thought, both for me and everyone else. For one thing, what is a democratic society anyway? And what if people are interested more in S.U.V.s than in citizenship? And what if they don't share a vision of self-realization, except when it means going through life without such questions? And how to account, anyway, for the enormous reign of money, technology and unaccountable power that we call the modern Corporation? Aren't they "human" too?
In short, Ray Seidelman, your head is in the clouds. People are stupid, and not worthy of what you imagine to be the good life your fuzzy head dreams up. People are in fact so stupid that they gladly forge the chains that lock them in their bubbles. A nation of 280 million strangers is, at best, a collection of bubbles held together by corporate propaganda when possible, which it usually is, or brute force when necessary, which usually isn't. He who dies with the most toys wins, and the business of America is business. If you dissent, view the world with detached and bemused irony, carving out a personal space and blowing a bubble with a slightly different shape from that human carnival around you. Such is the nature of post-modern irony.
Perhaps all this is true. It is a reasonable response to political life today, which at one level provides about as much public space for creativity as an empty and darkened broom closet. It has been almost 40 years since I started on this ill-defined road, and in truth there seems to be not much to show for it. In the Oval Office is a guy with a vacant expression, stuffed with cash from the oil and gas industry, with an M.B.A. from Harvard and a B.A. from Yale, who after a life of privilege can't utter a line of his native language without mangling it. You would think that the dominant elites could do better and, if there's a shred of democracy left in the U.S., that people would be in the streets calling for his head. Instead, he's on the verge of passing bipartisan legislation to blow the surplus on tax giveaways to the class that put him in office. After 20 years of economic growth that's missed most Americans and that's heaved up pyramids of wealth and income inequality, he wins office on a platform of giving more wealth and income to the top income earners. Just 500 people on this planet control more wealth than the 3 billion poorest, and that was as this pretender took office.
Given the realities of this kind of power, genuine democracy seems pretty unlikely. If that's correct, America will soon be identified, if it is not already, as mere geographic space defined by it muscles , appetites and the national entertainment eccentricities that are palmed off as culture. Those lines I talked about before are just growing further apart.
Sorry for this digression. I forgot for a moment my recent conversion to the GOP. But I said it to raise a deeper question: Is this the result of democracy, or the chief indicator of its absence? What kind of people are we, anyway? Are we fated, due to human frailty and our own weaknesses, towards decline that is masked as progress? An honest reading of history tells us that other peoples and societies were well aware of their own contradictions and simply chose to evade them, or their masters solidified them by brute force.
I don't know the answer to these questions. I am not sure anyone does. The last emotions I want to feel are arrogance and guilt. It is arrogance to believe that I can tilt at democratic windmills, and guilt because I haven't done more. Mostly what my life of learning has boiled down to is ultimate faith in people, and a belief that they can't be fooled all of the time.
Now I've chosen a rather strange path to pose these questions, and it is either to the detriment or the credit of Sarah Lawrence that these random musings have resulted in a semi-permanent teaching career. I'm a professional academic, and according to the canons of my own profession, these questions are too bluntly posed, ideologically charged, and unanswerable in empirical and quantitative terms. Part of me frankly regrets this vocational choice for a life of learning, for I think my talents lie elsewhere, probably as a politician, street-fighter or, in an earlier incarnation, as a labor union leader. In truth, I've come to doubt my talents as a scholar, a choice I made in a different time when I thought that the life of the intellect was the best way of doing politics, of bridging those divides between those bubbles manufactured by U.S. society. For those of you who think I teach political science, think otherwise. What I am trying to do in my classes is teach about politics as a part of life and its choices, and about why huge agglomerations of power seek to restrict all that. There are lots of other ways to do this, and lots of better ways too to figure out how to listen to people on equal terms. If from Day One we're taught to think of ourselves as separate atoms on a trajectory to consume as much as possible, it is no wonder that we think of politics as a tortured pursuit of power after power, with most of us always losing. We're diminished people as a result; Ive learned that most people realize that, if they're given the slightest opportunity to enjoy democratic conversations.
And you know, it's a cliché that teaching is a learning experience. Given the obstacles those lines that associate wealth, power and complacency from powerlessness, I'd expect the life force of democracy to have ebbed entirely. Yet your own questions, conflicts and arguments show that you are still very much citizens, or want to become so. I have almost always been encouraged by you. Some of you have been my students, and I have been grateful to have taught students who are so willing to question assumptions and wonder about the world. In a limited way, teaching you brings me back, ultimately, to all democratic dreams, those based on faith in — and a hunch about — what people can do when they see freedom on the horizon. They run towards it. College can be civic education of the highest sort — but so, too, must civic education be something we all share, so that we can create and live in those democratic spaces that make us fully human.
You know, one paradoxical result of my life as a scholar is that, after years of reading and thinking, I find myself returning to those original unformed experiences of l963. Ultimately, I still read everything I can, not because I love to read, but because it keeps me alive and thinking. A life of learning isn't all books; reading is just one way to make sense of your experiences and those of others you'll never meet and never know. As a student of social movements, I've discovered a real irony: books don't make movements; they just distill the ideas of people whove acted to change history. Books allow us to understand what many already know: the world into which we were born isn't run by immutable laws of economics or of politics.
No. Politics and people are most interesting when they gain the courage and self-confidence to make history, or at least struggle to do so. Maybe this is the most recent lesson learned by those who went to Seattle, Washington and to Quebec City. But let's face it: It's how we extend those conversations when we get back to our hometowns that deeply matters, too. The best any scholar can do is to assist some of you to start democratic conversations, to relate your life to others, now strangers, and then back to yourselves. But it is really up to you. This comes from experiences, many of them, that you now, after Fridays Commencement, have the chance to undertake. Please remain open to them.
As you leave, I remain behind here restless for new challenges. I wish I were your age, not out of nostalgia, but because I'd have an additional 30 years to see more, do more, think more. For a long time, I thought my restlessness was a big problem. But maybe not; maybe this restlessness is another way of doing politics. Maybe it contributes to learning — then again, maybe not. Anyway, be restless, dare to struggle, treat people with respect, widen debates, look for pleasant surprises, and experience the world fully, with others like you and not like you. Above all, seek truth. And then use it to build power. Take Bob Marley's advice: One love, one world, let's get together and feel alright.
Thanks for listening.
Mary Cornish, Graduate Student in Poetry Speaks to Graduates at Commencement 2001
I'm glad to speak this morning on behalf of all graduate students.
A few months ago, in our campus mailboxes, we got a little slip of paper that said, "Please remember to measure your head before March 23rd." Since I wasn't thinking of graduation, the reminder to measure my head startled me. Even now, such a notion seems a little bizarre.
I mentioned this to my nephew and he said, "They should have measured it coming in!"-- a kind of before and after. Standing here today, aware of all I've learned, I'm inclined to agree.
The smallest head among us is a 6 1/4, the largest size, shared by both male and female students is 8 1/2. Some of us may be disappointed to hear there is no discernable difference between a graduate head and an undergrad. Or even those of the faculty from the rest of ours.
I was told Barbara Walters-- who interviews great heads of state-- had her head measured by her housekeeper. This image gives a poet pause: Barbara Walters, maybe in a bathrobe, coffee cup in hand, and her housekeeper measuring an inch above either ear, the largest point around that famous head. Hat size: 6 1/2.
No doubt all of us know John Keats as an English poet. What is less known is that he almost made hats instead of poems. His guardian, worried about John's future as a poet, wanted to set him up in a shop. Imagine, instead of an ode to autumn, a hat by Keats: feathers, flowers, bows, a bird. The young man wrote in a letter to a friend: "I do believe if I could be a hatter, I might be one." I hear in that line a note of longing, and an inevitablity to his becoming a poet.
I wonder, as we sit here today with our various fields of study?? Whether dance or human genetics-- if we chose them or they chose us. That is, that our professions are referred to as "callings" for a reason: theirs is the voice, and we follow. Whichever is true, Keats's brief life serves as an example of how to embrace a pursuit with passion.
When I went over to Campus Events for statistics of hat size, I expected to calculate an average. However, looking at those lists and lists of heads, I was impressed first by how we all share a human shape, one whose details we take for granted. Next, those increments: 7 1/8, 71/4-- small measurements that tell us how we vary from the general human shape in wonderful, idiosyncratic ways.
Looking back on the years at Sarah Lawrence, I realize how well this school nurtures both aspects. We're encouraged in a sense of community: that shared human shape. Yet, the individual student is celebrated for those differences that make each one of us unique.
I'd like to close by turning to the faculty, offer them great thanks for loving and teaching us. The day belongs to them as well. Congratulations to us all.