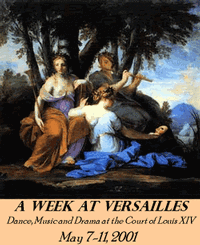 Events are free and open to the public. For more information, call 914-395-2412.
Monday, May 7th - 12:30pm in Marshall Field Room I
"A Short History of Seventeenth Century French Drama"
Lecture by Pierre Force, Chairman of the French and Romance Philology Department, Columbia University
Tuesday, May 8 at 12:30pm in Marshall Field Room I
"Musical Style in the Court of Louis XIV"
Performance Workshop by violinist Stanley Ritchie, Indiana University
Wednesday, May 9 at 2:30pm in the PAC Dance Studio
"The Role of the Dancing Master in Every Day Courtly Life"
Baroque Dance Performance by Thomas Baird, Mannes College of Music
Thursday, May 10 at 12:30pm in the Marshall Field Room I
"The Spirit of Seventeenth Century Opera and the Music of Jean-Baptiste Lully"
Lecture by Martin Goldray, SLC faculty
Friday, May 11 at 6pm and 9pm in the PAC Dance Studio
"Dance and Music from Versailles"
Original dances choreographed by Sarah Lawrence dance composition students to music by Jean-Baptiste Lully performed by the Sarah Lawrence College Chamber Orchestra. Sarah Rudner, artistic advisor to the choreographers and Martin Goldray, music director.