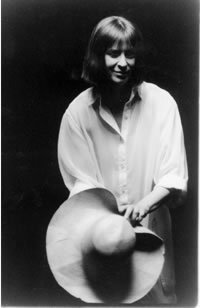 The artist Robert Rauschenberg has established the Viola Farber Artists in Residence Program in Dance at Sarah Lawrence College in memory of the influential and much admired teacher and dance program director who inspired many during her career. A renowned dancer and choreographer, Farber taught at Sarah Lawrence from 1987 until her death in 1998. Beginning this semester the College is hosting a series of artists who will pursue their own work while interacting with students and the larger college community. Dana Reitz, an acclaimed dance artist who works with light and movement is the first Viola Farber Artist in Residence.
"Viola Farber was an intense human being who made every life she touched richer," Rauschenberg said recently. "Her elegance, matched only by her uniqueness, carried forth into the beautiful and complex works she made happen on the stage and in the classroom. I give this award in honor of her. Although she is no longer with us, her spirit may live on through the many artists and dancers whose lives and work she will influence."
"This gift is a wonderful celebration and perpetuation of Viola's legacy to her students, to the world of dance and to this important training ground for young artists," said College president Michele Myers reflecting on Farber who had fostered a spirit of experimentation as well as discipline and focus.
Sara Rudner, director of the College's program in dance and a major dancer/choreographer herself said, "This program will mean an infusion of creative energy for the College. It will enable our students to observe and in some instances participate in the creation of new work by unique, honored artists in the field of dance."
Reitz is working in the Performing Arts Center's studio/theatre during this semester, designing a new piece and involving students in improvisation sessions in and out of the theatre space. The entire college community and the public will be invited to a culminating performance/showing.
"Dana's work is stunning and mesmerizing," said Rudner. "She creates a world of light, shape, space and movement that is unique. Her roots are deep in the experimental dance world, but her work is ultimately accessible because of its beauty and sensitivity." (See "Dancing with Light")
The plan for the program is to have artists in residence every semester, says Rudner. Each artist will help define how he or she will work with the students and the larger College community whether in short, intense workshops or for a semester or an academic year.
Based on modern dance technique, the dance program at Sarah Lawrence has long been an important training ground for young artists. Past graduates include renowned performers and choreographers Meredith Monk, Lucinda Childs and John Jasperse. The program encourages each student to craft a personal artistic vision and benefits from the legacies of the teacher-choreographer-performers who shaped the program - namely Viola Farber and the legendary Bessie Schoenberg who was among those who preceded her.