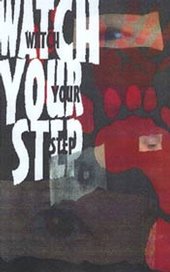 A play about landmines developed in the Sarah Lawrence College Theatre Program has begun an international tour to raise awareness of the ongoing devastation and displacement caused by landmines around the world, and to raise money for victim assistance. A Gala performance of "Watch Your Step" will be held at the Lucille Lortel Theatre, 121 Christopher Street in Manhattan, on March 19 at 8 p.m. All funds raised will be used to support the tour of the play. Host of the Evening will be James Lawrence of the U.S. State Department. Guest of honor at the performance will be Robert O. Muller, president of the Vietnam Veterans of America Foundation and cofounder of the 1997 Nobel Peace Prize-winning landmine campaign.
Adrienne Willis, a senior at Sarah Lawrence and the play's director and inspiration says that "'Watch Your Step' provokes awareness, sparks conversation, and leads those who experience it to take positive action to ban landmines and aid those populations whose lives have been forever altered by them." The tragic death of Willis' uncle by a landmine in Vietnam, long before Willis was born, had changed her family forever. Louis Cofrancesco, a 21-year-old soldier in 1968 from Patterson, New Jersey would never be forgotten. As a theatre student, Willis decided to take action.
Recruiting friend and classmate Jason Wells to write the play, Willis worked tirelessly to mount the performance, engaging acting students from the college to premiere the piece there in December and to go with it on tour. With support from the Vietnam Veterans of America Foundation and the Sarah Lawrence Theatre Program, particularly staff member Ruth Moe in the capacity of producer, the students have embarked on an ambitious journey.
The tour began on March 10 when the college troupe performed for the ICBL (International Campaign to Ban Landmines) at the Eastern Market theatre in Washington, D.C. and continues with a performance in Bedford, New York on April 6, and on April 29 at the Academy of Music in Northhampton, Massachusetts. The Northhampton performance will benefit "Walking Unitas," an organization operating prosthetic clinics in Nicaragua.
For information about any of the performances listed, to schedule a performance or simply for more information about 'Watch Your Step," please call 914-582-7026.