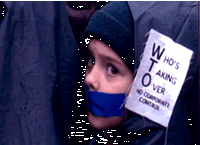 Sarah Lawrence College will hold its Sixth Annual International Film Festival on Monday, March 5 – Sunday, March 11. The theme of this year's festival is environmentally sound films. According to Eduardo Lago, member of the Spanish faculty and director of the festival, "If there is one issue that should truly bring people of all cultures together, it is the survival of our planet and its varied inhabitants. The 19 films in the festival approach environmental issues in as many ways." These films explore environments as diverse as the Mongolian landscape, mining communities, land development in Africa and Chilean forests – even outer space. The festival is free and open to the public. All films are shown in the Film Viewing Room in the Charles DeCarlo Performing Arts Center. For more information or directions please call 914.395.2411.
Monday, March 5
6:00 p.m.
Dersu Uzala (Japan/USSR/1974/color) This painterly work by Akira Kurosawa sets the meeting of an explorer and a resourceful nomad against the Mongolian landscape. Considered by many to be Kurosawa's most beautifully photographed film. Russian with English subtitles.
8:15 p.m.
Koyaanisqatsi (USA/1983/color) An impressionistic, scathing indictment of consumerism accompanied by a Philip Glass score. The title is a Hopi word for "life out of balance." Music.
Tuesday, March 6
5:00 p.m.
The Killing of Chico Mendez (Brazil/1990/color) The story of rainforest defender Chico Mendez and his 1988 assassination. Spanish with English subtitles.
9:00 p.m.
Princess Mononoke: (Japan/1999/color) This wildly popular animated epic by the director of My Neighbor Totoro and Kiki's Delivery Service portrays the conflict between a mining community and the gods of the forest in medieval Japan. Japanese with English subtitles.
Wednesday, March 7
9:30 p.m.
Congress of Penguins (Switzerland/1993/color) Turn-of-the-century Norwegian sailors used penguins as fuel. Natural historian and documentarist Hans Ulrich Schlumpf revisits the scene of the crime. German with English subtitles.
11:00 p.m.
Wisdom Keepers (Canada/2000/color)Five Turtle Clan Mohawks speak of medicines, the great law of peace and keeping our world sacred for the seven generations that will come. English.
Thursday, March 8
6:00 p.m.
Ta Dona (Mali/1991/color) Hailed as Africa's first environmental feature film, it outlines an authentically African development path – nurtured by tradition, not abandoning it; cultivating the land and its people, not plundering them. Bambara with English subtitles.
7:40 p.m.
Microchip al Chip (Chile/1991/color) This short film experimental documentary film employs both fictional and nonfiction techniques to examine the exploitation of Chilean forests by paper industries. English and Spanish with English subtitles.
8:00 p.m.
Tree of Wooden Clogs (Italy/France/1978/color) An arresting portrait of peasant life and labor in northern Italy at the end of the nineteenth century. Said the late film critic Vincent Canby, "It moves so effortlessly, often with great humor and always with compassion, that it seems much shorter than most 90-minute films." Italian with English subtitles.
Friday, March 9
3:00 p.m.
On Top of the Whale (Netherlands/1982/color) A parody lampooning cultural imperialism and anthropological practices. The film follows a group of linguists in search of a Patagonian community whose language uses only one word. English, Spanish, French, Dutch and German with English subtitles.
5:00 p.m.
Baraka: (USA/1999/color) Using time-lapse photography, Baraka takes the audience on a tour around the world. Set to an enchanting score by Michael Sterns. Music.
6:45 p.m.
Aloes Weeping (USA/South Africa/1999/color) A film about hazardous toxic waste dumping near a community in Aloes, South Africa. The film was made in part to draw attention to the hazardous conditions there in hopes of gaining government assistance. English.
8:00 p.m.
Star Trek IV: The Voyage Home (USA/1986/color) Perhaps the most lighthearted of the Star Trek film series, and also the most overtly topical, Voyage Home takes the crew of the Enterprise back to 1980's San Francisco to save humpback whales – and 24th century Earth – from destruction. English.
Saturday, March 10
4:00 p.m.
Silent Running (USA/1971/color) Douglas Trumbull directs this science fiction film about a man's efforts to preserve an off-planet ecosystem in the distant future. English
5:50 p.m.
The Nile (France/1979/color) This Jacques Cousteau travelogue documents the Nile's ecosystem and inhabitants and features ancient African cultures and teeming animal sanctuaries. French with English subtitles.
8:00 p.m.
Never Cry Wolf (USA/1983/color)A biologist sent to the far north to observe a pack of wolves becomes more and more involved with their society. English.
Sunday, March 11
6:40 p.m.
Green Wall (Peru/1970/color) The first Peruvian film ever screened in the US, Green Wall tells the story of a family settling in the Amazon. Spanish with English subtitles.
8:30 p.m.
Weekend (France/1967/color)"End of cinema, end of the world!" This film by Jean-Luc Godard is a hilarious collage of revolution and traffic jams. French with English subtitles.
10:30 p.m.
Trade Off (USA/2000/color)The last film in this year's festival, Trade Off is Shaya Mercer's award-winning documentary on the World Trade Organization protests in Seattle. English.