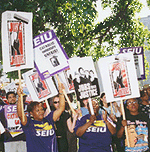 Activists, academics and students will gather at Sarah Lawrence College to exchange their latest ideas and experiences regarding the activism of recent women immigrants during the College's Third Annual Women's History Month Conference. This interdisciplinary conference, entitled On the Front Lines: Women's Activism in New Immigrant Communities, will take place on Friday, March 2 and Saturday, March 3.
A new wave of immigrants has been entering the U.S. from the global South, Latin America and the Caribbean, Asia and the Pacific, and Africa and the Middle East. With women often in the lead, these immigrants have brought with them new energy and fresh ideas that are changing the face of the U.S. movement for social justice.
According to Mary Reynolds, Associate Director of the Women's History Department at Sarah Lawrence College, "Immigrants constitute the most dynamic force in the revived labor movement." They also dedicate their efforts towards issues as far-ranging as the struggle for civil liberties, feminist organizing and campaigns against racism, she says. A wide spectrum of topics such as the global sex trade, activism among refugee women, domestic violence, health and safety issues, and the relationship between activism and the arts will be presented under the umbrella of the conference. Conference organizers believe the diversity of these presentations is representative of the range of issues that immigrants are tackling.
This conference will provide a forum to strengthen the dialogue among those involved in women's organizing in immigrant communities. Sessions will be comprised of lectures, panels, workshops, papers and film screenings. The keynote speaker, Shirley Lung, is on the Board of the Asian American Legal Defense and Education Fund and is the Associate Director of the Professional Skills Center, CUNY Law at Queens College. She is actively involved in labor issues affecting garment, restaurant and construction workers in NYC and has worked with the Center for Immigrants' Rights and the Chinese Staff and Workers Association.
Other participants will include Maria Jimenez, Director, Immigration Law Enforcement Monitoring Project, American Friends Service Committee; Sayu Bhojwani, founder and director of South Asian Youth Action, a community organization dedicated to empowering South Asian youth, Alisa Solomon, Professor of Journalism, Baruch College, CUNY, and staff writer, The Village Voice, Ai-jen Poo, leader in Women Workers Project at CAAAV: Organizing Asian Communities, Alizabeth Newman, Esq., Director of Immigrant Initiatives at CUNY School of Law.
All interested individuals are welcome to attend the conference free of charge. Please contact Mary Reynolds for more information at 914.395.2405 or register on line now for this year's conference.