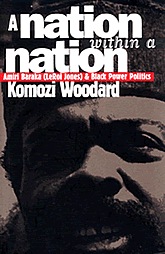 Numerous events mark Black History Month at Sarah Lawrence College. Faculty, staff and students have scheduled lectures, performances and exhibits to commemorate the influence of African Americans in the United States.
Of particular note at this time is the publication by history faculty member Komozi Woodard, the leading academic scholar on Amiri Baraka and author of A Nation within a Nation Amiri Baraka (LeRoi Jones) & Black Power Politics, Amiri Baraka from Black Arts to Black Radicalism, Part 1 of The Black Power Movement, a guide to his collection of research materials on Baraka, is now on microfilm.
"Dr. Woodard's collection is the first of a number of extraordinary black power era collections to be published on microfilm by University Publications of America," said UPA project coordinator Randolph H. Boehm. Spanning the years 1960 - 1988 and organized into 16 series, the collection consists of rare works of poetry, organizational records, print publications, articles, plays, speeches, personal correspondence and oral histories. In his introduction, Dr. Woodard discusses the contributions of Amiri Baraka "one of the most prolific and influential African American writers of the twentieth century."
Among writers who emerged from the Black Arts Movement is William Melvin Kelley, literature faculty member at SLC. Mr. Kelley is featured in a major Black History Month celebration of the Black Arts Movement in the Twin Cities, "US & Dem: William Melvin Kelley and the Black Arts Movement" sponsored by seven organizations including the Minneapolis Public Library.
Colin Hamilton, executive director of the Friends of the Minneapolis Public Library, said: "Like the Harlem Renaissance before it, the Black Arts Movement transformed the American consciousness and gave voice to a new generation of artists. This important but poorly understood movement continues to shape American culture.
"The artistic and spiritual sister of the Black Power Movement, the Black Arts Movement of the 1960s and early 1970s led an explosion of urban African-American popular culture. It produced such writers as Amiri Baraka, Nikki Giovanni and Sonia Sanchez, and marked scores of others, including Toni Morrison and SLC Alumna Alice Walker. It continues to influence rap and hip hop music, spoken word and performance poetry, independent and Hollywood Black cinema and experimental jazz," said Hamilton.
Mr. Kelley's novel dem has been re-released this month as part of a Black Arts Movement series.