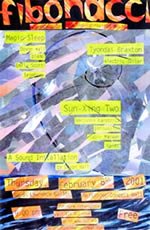 A concert of new and improvised music titled Fibonacci will be held at Sarah Lawrence College on February 8, at 9 p.m. in Reisinger Hall. The Concert carries the name of an early 13th Century mathematician in an effort to draw attention to the hidden patterns that can be found within spontaneously created music, and to develop new audiences for the new sounds.
Emily Scott, a third year student at Sarah Lawrence and organizer of the concert compares free improvisation, a new and developing form of jazz that characterizes the concert, to a numerical pattern frequently found in nature called the Fibonacci Sequence – 1,1,2,3,5,8 etc.(of which the spiral of a snail shell and the seed head of a sunflower are examples.) "The organization of the natural world can sometimes seem chaotic," said Scott. "People who have never heard free improvised music often identify it as chaotic or unstructured. I think finding the hidden patterns that exist, even in music that is created spur-of-the-moment, is very valuable.
"In free improvisation the challenge lies in what the musicians can do with the sounds their instruments can create – how they can turn something that is unplanned into music," explained Scott. "The musicians rely on their skill and the relationship they've built with the person they're playing with. What they create will never be recreated or heard again. Free improvisation lets the listener see what is at the very core of a musician."
"This concert showcases musicians who are really at the front of the scene," said Scott. "There seem to be a lot of people who think art and music and dance aren't going anywhere. I think there is a very rich and undiscovered scene that many people are unaware of. My hope for this concert is that it might get some people interested in a music they've never heard before."
Featured in the concert are The Sun-Xing Two (Sabir Mateen, reeds; Benjamin Karetnick, a 1999 graduate of Sarah Lawrence, percussion,) Tyondai Braxton, electric guitar, Magic Sleep (Devon Hall, a third year Sarah Lawrence student, piano, Emily Scott, trombone). Devon Hall will open the concert with a sound installation constructed of string and weights. This overtone machine will set the mood for Fibonacci and include audience participation.