---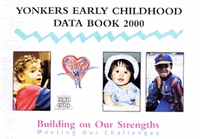 Children in Yonkers will be born healthy, and will be nurtured and supported by their families and the community so that they maintain good health, are prepared to learn, and achieve their full developmental potential. This vision for Yonkers' families received a boost with the launching of the Yonkers Early Childhood Data Book 2000. The 190-page book chock-full of facts, charts, graphs and personal anecdotes provides background about Yonkers, and uses quantitative and qualitative data to examine the well-being of young children and their families. Produced by the Yonkers Early Childhood Initiative, the data book is a first step in assessing the state of very young children and their families in the City of Yonkers. It will serve as a baseline for setting community priorities and developing services.
Collaboration is at the core of the successful completion of this project, which has been two years in the making. The Early Childhood Initiative (ECI) is a subgroup of the Healthy Yonkers Initiative, a collaborative spearheaded by the Mayor John Spencer and Riverside Health Care System, Inc. to improve health and the quality of life in Yonkers. Members of the ECI include families, public and private service agencies, advocacy organizations, the school district, local hospitals, religious institutions, childcare providers and advocates, the Mayor's Office and local academic institutions including Sarah Lawrence College.
Delivering the keynote address at a community presentation on January 25, Michele Tolela Myers, Sarah Lawrence president said: "What the Data Book demonstrates is the capacity of the ECI to work together effectively on behalf of the Yonkers community and to produce models for the field. To my knowledge, this is the first data book of its kind to be produced by a city. The book will help ECI set goals and priorities and track data over time as we continue to improve the health of our children in Yonkers.
"We have chosen our participation in ECI as one of the ways to enact service to Yonkers, the city in which we reside," she said. "We want to play a role in Yonkers and we want to be a partner with other Yonkers institutions to help make this community a model of health and education for all our children. With its political leadership and vision, its community will and commitment, and with its intellectual resources, Yonkers is showing the creativity and the know-how to develop model programs that can be emulated throughout the state and even the nation."
Sarah Lawrence faculty, and students and alumnae are integrally involved in the ECI. Rachel Grob, Coordinator of the ECI and Director of Policy Analysis and Planning for the Julia Dyckman Andrus Memorial is an alumna of the College's graduate program in health advocacy. Linwood Lewis, psychology faculty member is a member of the ECI Data Book Subcommittee. Donna Gentry and Desiree McDougall, health advocacy graduate students, worked on the Data Book under Rachel Grob's supervision as part of their fieldwork requirements.