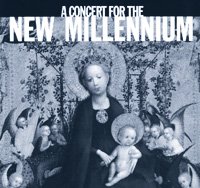 The world premiere of A Mass for a New Millennium, composed by faculty member John Yannelli, will be presented in a concert by the Sarah Lawrence College Chorus, Chamber Choir and Orchestra in a Concert for the New Millennium at 4 p.m. on December 12 in Reisinger Concert Hall. The concert, which will feature the new mass sung in Latin and English, is free and open to the public. For information or directions, please call (914) 395-2411.
The concert will also feature Haydn's energetic and dramatic Nelson Mass, one of six masses he wrote at the end of his life, and two Christmas pieces by Britten and Victoria. Martin Goldray will conduct the orchestra and chorus, and for the first time Patrick Romano will conduct the choir.
John A. Yannelli is director of the Sarah Lawrence Chamber Improvisation Ensemble and director of electronic music. A composer of traditional and experimental works for all media, he is a specialist in improvisational techniques and electronic music and music for theatre and dance. His works have been performed throughout the U.S. and Europe.