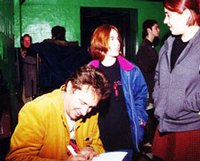 by SLC Student Alissa Herbert
On Sunday, November 19th, Richard Hell came to do a spoken word performance at the coffeehaus at Sarah Lawrence. Richard's fame began back in the mid-to-late 1970's as one of the St. Mark's Poetry Project staples, along with the likes of Patti Smith, Lenny Kaye, Tom Verlaine and Jim Carroll. Richard and Tom Verlaine left to form their band The Neon Boys, soon to become Television. After his short stint with Television, Richard and some former New York Dolls members formed The Heartbreakers (Johnny Thunders and Jerry Nolan) before Richard formed his own band, Richard Hell and The Voidoids. This band (Voidoids) recorded the anthemic "Blank Generation," making Richard Hell's place in punk history indelible. Credited with everything from the look of punk, to part of the inception of the genre itself, Richard has a hard time escaping the imprint of his past.
Now, Hell is the author of several books of poetry; some collaborative, most personally penned. He also has completed two novels (The Voidoid and Go Now) and has new fiction in the works. Hell also has an active web site (http://www.richardhell.com/) where he features his own work, as well as updates and links to other authors, particularly from CUZ Editions, for which he serves as editor.
He read from several books of his poetry, Go Now, and an unfinished new novel. Especially of interest were his side remarks about the processes of writing, giving readings, and listening to readings. He shared a survival skill he has adapted to make it through listening to a boring reading, which is to imagine that the poet reading has been dead for 20 years. "This alone makes the poet inherently more interesting." Speaking to an audience of students engaged in all of these processes, his reading took on an interactive and especially relevant meaning. Richard was very accessible -- spending time signing books and visiting with students until well after the reading. It was a really special offering to writing students as well as those of us who just appreciate performance.
Mr. Hell is likely to return for a more in depth reading/lecture in the fall of 2001. At this reading, the coffeehaus was packed to capacity, and this was two days before Thanksgiving Break, Spring Registration and the night before exam and paper deadlines. I would highly recommend anyone interested in the process of writing poetry, fiction, reading, listening and/or publication come to hear Richard Hell. He is not only a "living legend," but he's funny as hell.
Contact:
Judith Schwartzstein
Assistant Director of
Public Relations
1.914.395.2219