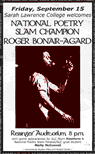 The Jazz Poets Society Performs
Friday, September 22, 10 p.m. in Reisinger Hall
Cool horns, thick beats, jazz poetry. A group of artists who fuse spoken word with live music, the Jazz Poets Society has been called the "new voice of urban music culture." The JPS trademark is the unique flow of words over jazz flavored funk, organic hip-hop and lounge music. The JPS was conceived by Patrick Mamou in 1993 and is based in Richmond, VA, beginning as a poetry collective performing in local clubs and cafes, then making a name for itself at east coast colleges. The eight-member group is composed of 3 poets and 5 musicians. In addition to Mamou, the members of the group are Martin Reamy, Nyaze, Brent Jones, Victor Lee, Joel Bennett, Gordon Jones, Scott Frock. The Jazz Poets will start right after an opening performance by SLC Faculty Member, Tracie Morris, a performance poet with joint projects with Ralph Lemon and her own bands. She also appears on a CD of poetry called Our Souls are Deeo Like Rivers.
Roger Bonair-Agard, Poetry Slam Champion:
A Hit on Stage at Sarah Lawrence
"Words flew from his lips like a torrent, fast and strong. His face grew tense and his dreadlocked frame rocked back and forth as he sang out "they're still killing the buffalo-they're still killing the buffalo." - Tauheeda Yasin, a first year SLC student - from her upcoming review in the Phoenix (available on campus this Friday) of Bonair-Agard's riveting performance on Friday, September 15 in Reisinger Hall. "The performer took the audience of 250 people with him through moments of reflection, euphoria, sadness and laughter… Roger Bonair-Agard performed with an intensity that was both thought-provoking and funny."
Born in Brooklyn, Roger Bonair-Agard was immediately whisked off to Trinidad, where he was raised until he returned in 1987. He is the 1999 individual national poetry slam champion, coach/team member of the 2000 national slam finalist team NYC/Union Square, coach of the 1998 national slam champion team NYC/Nuyorican, 1997 Nuyorican Gran Slam Champion, 1998 Nuyorican Fresh Poet of the Year, co-author of "Burning Down the House." The poet/activist/Hunter College graduate now lives in Brooklyn and travels the country performing his own work and conducting workshops for adults and teens. His debut collection of poetry, "and Chaos congealed," is scheduled for publication this fall by Fly By Night Press.
This event was sponsored by Student Affairs and the Student Senate which also featured guest appearances by SLC Alum Keystone & National Poetry Slam/SLC Grad Student Marty McConnell.