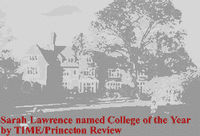 Sarah Lawrence College was named as the liberal arts College of the Year in the 2000 edition of The Best College for You, a co-publication of TIME magazine and The Princeton Review.
According to TIME/ The Princeton Review, Sarah Lawrence was honored as the Liberal Arts College of the Year for developing an intense writing program within any chosen field of study. One of the smallest, artsiest, and most liberal, Sarah Lawrence is also widely considered one of the inkiest, according to the editors. The quantity and quality of writing required at Sarah Lawrence are grueling.
"Writing is the coin of the realm here," says college dean Barbara Kaplan. "It permeates the whole atmosphere rather than being compartmentalized into a single course or slapped on as a series of skills." At Sarah Lawrence, it's important because, "We believe writing is the tool of thinking," says Sarah Lawrence president Michele Tolela Myers. "The best way to learn to think is to read a lot of good writing and write a lot about what you've read."
This year, the editors focused on "Writing Across the Curriculum" (WAC) programs, which teach students to use writing as an exercise in clear thinking, regardless of their field of study. TIME/Princeton Review named four different types of institutions as Colleges of the Year.
"We are very pleased that Sarah Lawrence College has been selected as TIME and The Princeton Review's College of the Year among liberal arts colleges. This is such a wonderful tribute to our faculty, students and our pedagogy", says Myers. "What makes us most pleased is not just our being honored, but also that this award focuses on writing and the communication of ideas, which are central to all disciplines whether one is in college or the workplace. One of the most important skills in the digital age is, in fact, one of the oldest --writing," she added.
The three other schools named include Cornell University in Ithaca, NY as the private research university, Longview Community College in Lee's Summit, MO as the two-year college and Clemson University in Clemson, SC as the public university.