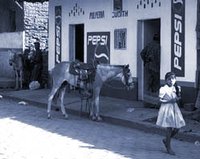 Seven first and second year students traveled to Nicaragua in May to participate in Sarah Lawrence's international service learning trip. For two weeks they lived in urban and rural communities and learned about the country's political and economic history and present situation. With the help of ProNica, a Quaker organization based in Managua they took part in social change and organic agricultural projects and women's cooperatives.
Whenever possible, the students worked along with their Nicaraguan hosts, whose warm hospitality was abundant throughout their stay. Sarah Penniman, a first-year student, shared some of her impressions in a letter to her church community. Sarah wrote that these students were guided by the sentiments of Lila Watson, an Australian aboriginal woman; "if you have come here to help me you are wasting your time. If you have come here because you know that your liberation is bound up with mine, then let us work together." Sarah's letter is excerpted here:
"We went to Nicaragua not to grace its poor, powerless people with the charity and mercy of our hands, but as humble pupils of a people whose strong hearts and spirited souls have led them through the most heinous trials imaginable.
During our two week stay, we saw people join together in decaying church buildings for Mass, to celebrate the wonder of life; a self-sustaining cooperative called Potters for Peace that makes ceramic water filtration systems for communities without safe drinking water; one of many Christian based communities embracing Liberation Theology and uniting a political and spiritual poor people's movement against oppression; San Marcos, a farm and home for street kids where children for the first time discover childhood; a village struggling with its own poverty yet taking up a collection to provide food and supplies for hurricane victims; Nueva Vida, a community of people rendered homeless by the hurricane who are helping one another rebuild houses; student activists struggling fiercely to bring more money into schools; people organizing to end sweat shop exploitation; a women's center and clinic, healing and empowering women; communities working together to build libraries and schools; people who know the strength of song and sing long into the night; the mesmerizing beauty and diversity of the Nicaraguan landscape, the breathtaking mountains and lush forests; people proud of their simple cement houses with dirt floors, who feel the strength of the land, and know what real wealth is. I had the privilege of stepping out of my environment into one of the very richest countries in the hemisphere."