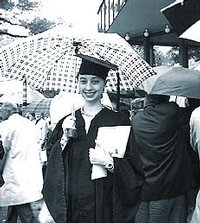 Sarah Lawrence College's 71st commencement took place on Friday, May 19, 2000 at 10 a.m. The Bachelor of Arts degree was awarded to 279 undergraduate students and 120 graduate students received the Master's Degree. Dr. W. Ian Lipkin, a 1974 graduate of the college, a physician and molecular neurobiologist addressed the graduating class.
Dr. Lipkin is an international scholar in molecular microbiology and neurobiology. An expert in pathogen discovery, he led the team that used unique molecular methods to identify the West Nile virus as the cause of the encephalitis outbreak in New York State in the fall of 1999.
It was announced on May 5th, that Dr. Lipkin has led his lab to a new discovery—a test that can diagnose the West Nile virus sooner than the standard test. He is director of the Univeristy of California at Irvine's Emerging Diseases Laboratory and Professor in the Departments of Neurology; Anatomy and Neurobiology; and Microbiology and Molecular Genetics.
Sarah Lawrence College is a coeducational liberal arts college, founded in 1926, with a singular system of education and is known for having one of the lowest student/faculty ratios in the country. At the core of the system are small classes, regular one-on-one student-faculty conferences, cross-disciplinary approaches and the integration of the creative arts within the curriculum. All undergraduate degrees are awarded in the liberal arts.
The College's graduate programs, including theatre, dance, child development and the art of teaching, have a history of innovation. Programs in human genetics, health advocacy and woman's history were the first in the country. The program in writing is widely recognized as one of the best graduate programs in creative writing.