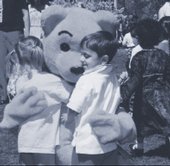 The 41st Annual Sarah Lawrence College Kids Fair will take place Saturday, April 29 from 10 a.m. to 4 p.m. on the Westlands lawn of the college campus. The event is open to the public. For more information or directions, please call (914) 395-2411. Please note that this is a fair weather event.
A highlight of this year's event will be a Magic Show at 1 p.m.. In addition, a variety of rides and games, including a carousel, air castle, alligator golf, and bowling, will be available. Other features will include various food concessions, as well as a tiny tots play area.
Tickets will be issued carnival-style at a cost of 75 cents each. Each game will require one ticket; food, 1 to 2 tickets; and rides, 2 to 4 tickets.
More than 125 student volunteers will take part in this year's event, which helps raise scholarship funds for students in need.