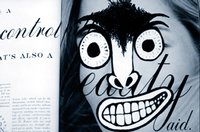 All events take place in the Film Viewing Room of the Performing Arts Center
Thursday, March 30
7:00 pm
Filmmaker Vanessa Renwick, from Portland, Oregon, will be discussing experimental film and her own work.
Awards will be presented for winning films shown tonight
Films Begin
Untitled: Keith McCulloch 10 minutes
A white on black animated piece about a depressed bear at a bar. Black and white 16mm optically printed.
Blonde: T. Scott McDonald 6 minutes 45 seconds
"BLONDE addresses the dissatisfaction with the self image and the contradictions of self improvement." Color 16mm.
Sincerely, Joe P. Bear: Matt McCormick. 4 minutes
"A movie about a heart broken polar bear that is dealing with rejection. Using optical printing to combine footage from a 1960's television newscast with hand painted film, "Sincerely Joe P. Bear" is a heartfelt letter from a lonely bear." Color 16mm.
While You Were Gone: Alex Kreit. 4 minutes
"This piece explores a close friendship using video of two people that was shot over a number of years." With an original soundtrack by Alex Kreit. Video.
Roar Kitty Roar: Michael Velliquette. 3 minutes
"Explores the 'culture of collars' and the young men who wear them. It's experimental narrative structure is a cross between a music video and a nostalgic queer porn stag loop -- with a hi-camp musical twist." Video.
16 Things I Hate About Myself: Matt Lancit. 5 minutes
An exploration of one boy's neuroses including his fear of the mole in his belly button. Black and white 16mm. Video Print.
Meatfucker: Sean Durr. 28 minutes
Mother said "boys who eat meat are bad." What's a sexually confused vegetarian boy to do when his meat eating roommate is having sloppy sex with a girl in the next room, and the 6 lb chicken is just sitting there asking for it? Digital Video.
Intermission
Films Resume
Dancing In The Show Tonight: Samantha Vincenty. 2 minutes 15 seconds.
"A ringmaster a clown with man-boobs and a few of their friends kick out the jams." 16 mm. Animation. Video Print.
Queen Nelora And The Fantastic Courting Yard: Tara Mateik. 15 minutes
"An animated documentary about the relationship between Amelia Earheart and Eleanor Roosevelt." This clever film combines puppetry with hand made sets to create an intriguing world which mimics children's television yet contains a very subversive subtext." Video
The Vyrotonin Decision: Matt McCormick. 7minutes 15 seconds
"A post-modern disaster epic featuring thirty six appropriated television commercials from 1971." Experimental animation using found footage and handmade film techniques like the hole puncher. Color 16mm.
Yesterday's Wine: Robert Ariganello. 10 minutes
"...a found footage film that explores the nature of filmmaking by deconstructing the violence common to commercial, narrative cinema." Found Footage, 16mm.
Friday, March 31

8:00 pm
Videomaker and Performance Artist, Miranda July, (of Kill Rock Stars) will speak.
Awards will be presented to winning films shown tonight
Films Begin
Subverting Media: Paper Tiger Television. 25 minutes
A short documentary focusing on three alternative media sources: 'Zines, poster art and graffiti, featuring the work of Spanish Harlem artist James de la Vega. Video.
Movie With No Sound And No Title: Lauren Krueger. 2 minutes
A scratch animation piece exploring the relationship of the viewer to the subject and vice versa. 16mm. Video Print.
Eve Of Separation: Biff Juggernaut. 5 minutes 45 seconds
"This is not a fictional work. It is about you. About your weaknesses. Fuck racism. Fight segregation. Don't free your mind... at the expense of others."
Knuckle Down: K8 Hardy and Sarah Marcus. 9 minutes
Shot on super 8 and video with an extremely layered soundtrack of old motivation tapes, repeated dialogue, and some hip hop beats. The video hunts within identity and searches through what some may call post modern feminism.
Homecoming Queens: Paper Tiger Television. 29 minutes.
A documentary made by the residents of Green Chimney's Gramercy Residence in collaboration with Paper Tiger Television, this video presents "...a first hand account of life within one of only two programs in the United States that provide residential services for Gay/Lesbian/Bisexual/Transgender/Queer youth. Through interviews and testimonials these youth provide a moving account of the friendships and emotional supports that they have created for themselves within the residence." Video.
Intermission
Films Resume
Hour, Minutes, Seconds, Frame: LeAnn Erickson. 6 minutes
"I'm sleeping, dreaming and the time passes...hours, minutes, seconds...Constructing a dreamscape of image and sound, the artist explores issues of loss and memory surrounding her mother's death from cancer. Video.
Spectres Of The Spectrum: Craig Baldwin. 88 minutes.
"This near-future found footage fairy tale spins out a critical review of military-industrial take-over of electromagnetic research from the tragic-comic tribulations of a young telepath's Airstream-trailer-powered time travels." Color 16mm.

"Born in Oakland and raised in Sacramento, California, Craig Baldwin attended the University of California at Santa Barbara, University of California at Davis, and San Francisco State University (M.A., 1986). In the Department of Cinema there, he studied under Bruce Conner and became increasingly drawn to collage film form. His interest in recontextualization of found imagery led him to the theories of the Situationist International and to various practices of copy-art, mail art, 'zines, altered billboards, and other creative interventions beyond the fringe of the traditional fine-arts curriculum." Flicker.
Saturday April 1st
7:00 pm
Amy Taubin, film columnist for the Village Voice, will be lecturing on Experimental film.
Awards will be presented to winning films shown tonight.
Films Begin
Perico: Maria Jose Muniz Barreto. 10 minutes
"Isolated. Unfamiliar with human civilization. Communicating with those who don't speak. Once a month, one man on the furthest point of the world needs to kill in order to survive. I have traveled to the south of Argentina to document life." "I'm from Argentina and have been living in NYC for the past four years, studying film and video at the School of Visual Arts. I grew up in the farm, and this ritual has always been a part of my life. I simply documented my memories, and didn't use my powers as a film-maker to manipulate reality. What you see exists with or without my participation. I have brought a woman's perspective into a male's long established tradition. Each woman collaborator added her own individual layer, allowing other points of view a free path into the making of this film." Video Print.
Site Visit: Maia Cybelle Carpenter. 15 minutes
"Gauging, mapping, and tracing only to find that what is there cannot be found, and instead must be invented." 16mm.
Two Tales Of Turmeric Border Marks: Christina Choe. 15 minutes
"An experimental documentary taking place in modern Seoul, Korea, where an intersection becomes two stories of migration, globalization, hybrid identity, cracked mirrors, and turmeric (a yellow spice powder). A young Korean-American college student voyages back to the motherland where she meets South Asian migrant workers. These parallel stories illuminate and question our assumptions of identity and culture, as well as power and resistance. Through interviews, spoken word, super-8 imagery, and a bizarre Bangladesh wedding scene over a speaker-phone, we witness a changing world, and a twist to the word, "post-modern". Video.
Intermission
The Manipulators: Claire Rojas and Andrew J. Wright. 3 minutes
An animated piece using a woman's magazine to make light of society's need for beauty and clear skin. Color 16mm.
A Fragmentary History Of The 21st Century: Roger Beebe. 18 minutes
"Schizophrenic film. Scenes from the daily life of the new millennium. Science fiction without spaceships. Experimental parables. 2 pets, 3 TVS, an ocean of cars, a lucky penny. Lots of people receiving electric shocks for no good reason. A picture in 19 parts of the coming century." 16mm.
Hi Mom, Hi Dad, This Is Your Son, Rich: Genevieve Mercatante. 6 minutes.
Super 8 sound home movies edited to create an experimental narrative exploring family and friends, as well as memory and the discourse of nostalgia. Video.
Toogie: Maria Jose Muniz Barreto. 6 minutes
"A human story of a wannabe cat". A documentary about a cat and it's human family. Video.
The Wait: Michael Velliquette. 3 minutes
"Experimental video short that takes a nostalgic look at 'first love' experiences, romantic fantasy, and physical desire between men." Video.
For more information contact the festival organizers at: (914) 323-6702