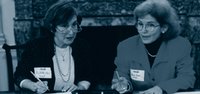 The president of Sarah Lawrence College and the vice rector of the University of Havana today took the first step to establishing one of first formal exchange programs between academic institutions in Cuba and the U.S.
Michele Tolela Myers, President, Sarah Lawrence College and Lourdes Tabares Neyra, Vice Rector, University of Havana signed a formal letter of intent outlining plans for academic cooperation between the two institutions. These include a semester abroad program for Sarah Lawrence students beginning August 2001, faculty exchanges, collaborative programs for academic research and conferences, and opportunities for intercultural learning and cultural exchange.
"An educated person in the 21st century must be a citizen of the world," said Myers. "This means students must learn about the world, be willing to be a part of it, contribute to it and must develop a deep knowledge of countries beyond their own," she continued noting that Sarah Lawrence has always had a strong commitment to international programs.
The exchange program has been developed by Eric Popkin of the Sociology faculty who came to Sarah Lawrence two years ago with a specialization in Latin American studies. The program with Cuba is part of Sarah Lawrence's interest in building its international programs in that region of the world.
"We are lucky indeed to have this opportunity to collaborate with our esteemed colleagues from the University of Havana – one of the preeminent universities in Latin America today," stated Myers. Referring to the relaxing of federal regulations making academic exchanges possible, Myers said: "We will be one of the first programs in the United States to walk through these newly opened gates between our two countries. It is always exciting to be among the first and to be among those who are willing to innovate, create and take risks."
"One of the most important aspects of the program is that the Sarah Lawrence students will be fully integrated into life at the University of Havana. They will take classes and live in dormitories side by side with Cuban students," Myers continued.
When the planned exchanges begin, Sarah Lawrence will already have experience sending students to the Caribbean nation. Like a growing number of college students Sarah Lawrence undergraduates have already had one short-term study visit. Another group will travel to Cuba for a short-term study trip in April. But based on the in-depth academic preparation and continuation of their experiences through independent study, the high percentage of participating Sarah Lawrence students who speak Spanish, and the collegial relationships developed by Popkin, Sarah Lawrence College has become one of the first undergraduate institutions invited to develop substantive, collaborative academic programs with the University of Havana.
"With the signing of this letter of intent we will become educational pioneers," said Margot Bogert, chairman of the Sarah Lawrence College Board of Trustees.