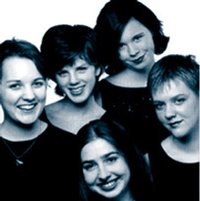 Winners of this year's Sarah Lawrence College Concerto Competition will step out in front of the orchestra on Sunday, March 5 at 4 p.m in a special concert featuring each of the five students in solo performances. The annual competition is sponsored by the College's Music Program.
Early and late Romantic concertos will be performed by Chloe Allen, playing the Mendelssohn Violin Concerto and Colette Alexander, playing the first two movements of the Elgar Cello Concerto. Performing works from the twentieth century, Susanna Quilter will play the first movement of the Flute Concerto by Soviet composer Aram Khachaturian, Emily Scott will play Swedish composer Lars-Erik Larsson's Concertino for Trombone, and Elizabeth Gustin will perform Aaron Copland's jazz-influenced Clarinet Concerto.
The Sarah Lawrence College Orchestra is open to all students and members of the college community by audition. Performances this year have included a concert of Erik Satie's works performed as a 133rd birthday tribute to the early 20th century French composer. The classic 1924 film "Entr'acte" by filmmaker René Clair was shown while the orchestra performed the Satie score. The orchestra also played Satie's ballet, Parade. A concert by the Chorus, Chamber Choir and Orchestra for the New Millennium featured the world premiere of A Mass for a New Millennium, composed by faculty member John Yannelli, Haydn's Nelson Mass, and two Christmas pieces by Britten and Victoria. A fully staged presentation of Stravinsky's L'histoire du Soldat (The Soldier's Tale)in collaboration with the dance and theatre programs will be performed in April.
Music faculty member Martin Goldray conducts the College orchestra.