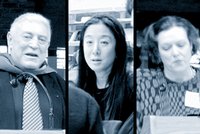 Vera Wang, fashion designer to the stars and America's brides and Ruth Abram, founder and president of the Lower East Side Tenement Museum received alumnae/i citations for achievement at the College on March 2. The honor is given to those whose work embodies the values and ideals of the College's distinctive brand of education; education that encourages creativity, risk-taking and the pursuit of passion in one's work. William Rubin, faculty member from 1952 to 1967, a leading scholar of modernism, received the degree of Doctor of Humane Letters at the celebratory event.
Vera Wang entered Sarah Lawrence as a pre-med student with a career as a championship figure-skater behind her. After her studies, which included art and languages, she changed direction and moved into the world of fashion, beginning a career at Vogue that lasted 16 years. She began her career as a designer working for Ralph Lauren, but she found her niche when in 1989 she designed her own wedding gown, dissatisfied with what was available to her. The rest is fashion history.
In true Sarah Lawrence spirit Vera Wang has revolutionized the design business from wedding gowns to the breathtaking dresses designed for the academy awards to Olympic skating fashion. She has created a place for herself in the fashion industry that no one else has done," said Barbara Kolsun, president of the alumnae/i association, who nominated Ms. Wang for the association's distinction. "Sarah Lawrence teaches you to be fearless and creative and Vera Wang's position in the world of fashion certainly demonstrates that," she said.
Fellow alumna Nancy Reeder who nominated Ruth Abram for the award stated that, "One of the hallmarks of a Sarah Lawrence education is to be a thinker, be creative, have a vision. Ruth's enthusiasm and determination truly embody that tradition."
Growing up in the south of the 50's Ruth Abram had first hand knowledge of prejudice, both from the perspective of the civil rights movement – her father is Morris Abram, the civil rights lawyer – and that of a Jewish girl barred from the cotillion. "What is so remarkable about Ruth is that she took a deeply rooted belief in the importance of all those who had been marginalized and she did something about it -- creating a museum whose mission is to promote tolerance and historical perspective," reads the citation she will receive.
The museum, which recently came under the aegis of the National Park Service, has also been designated as a site of the National Trust for Historic Preservation. Abram's citation continues, "In only twelve short years she has turned a shoestring operation into an important New York cultural and educational institution to tell the story of the American immigrant experience to visitors from all over the world. By creating and running the only tenement museum in the United States, Ruth has helped to change forever the idea of what is important to preserve in our history." In awarding the honorary degree to Rubin, College president Michele Myers said: "William Rubin defined the discipline of modern art history, and mentored Sarah Lawrence students and faculty with brilliance, decency, and rigor. As a trustee of the College and public figure he served as a compelling advocate for the visual arts and its history. As director of the Department of Painting and Sculpture at the Museum of Modern Art he continued to bring his sense of daring, discovery and delight in modern art to all."