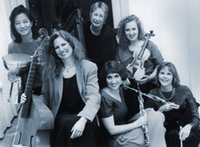 The acclaimed Ensemble Galilei will perform a program of ancient and Celtic Music on Sunday, February 20 at 4 p.m. in Reisinger Hall on the Sarah Lawrence campus. Tickets are $10; $8 for senior citizens. Reservations are not required. For more information or directions, please call (914) 395-2411.
Specializing in Celtic music, early music, and original compositions, the ensemble melds the elegance of chamber music with the energy and excitement of traditional music. They will perform works from their new release on Telarc Records, Come, Gentle Night. Featuring music of Shakespeare's world, the group did considerable research to find pieces that could conceivably have been used as actual incidental music in the plays of the Bard. The result is a captivating selection of 16th and 17th century lute-songs, jigs, reels, and country dance tunes that relate by text, title and spirit to Shakespeare's works.
Intermingled with the authentic music of the period is an assembly of evocative original compositions by the women of Ensemble Galilei. From the plays and the poetry, from the tragedy and the laughter, the women drew lines from Shakespeare's world to their own. The resulting original compositions include No Longer Mourn For Me and Death's Second Half, derived from Shakespeare's sonnets, and The Asp and Fire, Burn, and Cauldron Bubble, from his plays. A highlight of the program is a performance of the recording's haunting title track, which uses underlying text taken from Romeo and Juliet.
Founded in 1990, Ensemble Galilei takes its name from the composer Vincenzo Galilei, whose influence, some 400 years ago, helped restore a vital element of passion to the music of his day. The group includes both classically-trained and folk-trained musicians, from Liz Knowles, fiddler on the national tour of Riverdance, to Carolyn Anderson Surrick, who has an M.A. in musicology and has performed early music on the viola da gamba for 23 years. Other members of the ensemble include Jan Hagiwara, percussion; Deborah Nuse, Scottish small pipes and fiddle; Sue Richards, Celtic harp; Sarah Weiner, oboe, recorder, and penny whistle.
Photographs are available to the press.