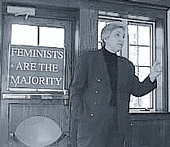 Eleanor Smeal, president of The Feminist Majority Foundation, spoke at the College about the challenges and restrictions women face around the world in a lecture, titled "Beyond Boundaries: Feminists Worldwide Fighting the Backlash," on Monday, November 15. The event was co-sponsored by the Women's History Graduate Program and the Office of Multicultural Affairs.
In her lecture, Smeal, a renowned feminist leader for nearly three decades, focused on the backlash against feminist concerns as well as the progress both here in the U.S. and abroad. Among the concerns she raised is the campaign to stop gender apartheid in Afghanistan. She offered insight into how far society has advanced in the struggle for equality and the action needed to combat what she sees as a backlash against women, people of color and lesbians and gays.
Smeal asked the students in attendance to form a campus delegation to the Feminist Expo 2000 for Women's Empowerment scheduled for March 31 - April 2 in Baltimore.
Smeal, the longest standing president of the National Organization of Women (NOW), led the campaign to ratify the Equal Rights Amendment. She played a pivotal role in the passage of such landmark federal civil rights legislation as the Pregnancy Discrimination Act, Equal Credit Act, and the Violence Against Women Act. In 1987, she founded The Feminist Majority Foundation, an organization that combines policy research with social action to develop strategies for the political, economic, and social empowerment of women.