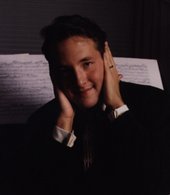 Two of Erik Satie's most important and amusing works will be performed as a 133rd birthday tribute to the early 20th century French composer by the Sarah Lawrence College Orchestra. The mixed media event will take place on Sunday, November 14, 1999 with a lecture and slide show at 3 p.m. and concert and film beginning at 4 p.m. in Reisinger Hall. The event is free and open to the public. For more information please call (914) 395-2411.
In a rare occasion, the classic 1924 film "Entr'acte" by filmmaker René Clair will be shown while the orchestra performs the score written by Satie. The orchestra will also play Parade, Satie's ballet, first performed in 1917 with sets and costumes designed by Picasso. Gerrit Lansing of the College's art history faculty will give a pre-concert lecture entitled "Parade and French Popular Culture." The talk will include slides of Picasso's original visual art.
Works by John Cage and Maurice Ravel, which reflect Satie's profound influence on much of the 20th century's musical thought, will also be performed. These include Ravel's Bolero (1924) and John Cage's Concert for Piano and Orchestra (1958), the piano solo to be performed by 1998 Sarah Lawrence alumnus Marty Demarest.
Making his debut as conductor of the Sarah Lawrence College Orchestra is Martin Goldray, pianist and conductor, a member of the Philip Glass Ensemble who has conducted the premières of several Glass operas. Goldray has worked with many composers including Milton Babbitt and Elliott Carter.