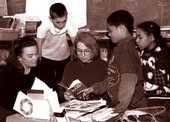 A recent graduate of Westchester Community College's Early Childhood Program, Maura Clancy of Katonah, NY, is the second recipient of a special scholarship awarded by Sarah Lawrence College to a promising graduate of the two-year institution. Ms. Clancy is pursuing a BA from the college's Bachelor of Arts Program for Adults. She will continue in Sarah Lawrence's Art of Teaching graduate program in elementary education.
The full tuition scholarship is unusual in the field of early childhood education. The scholarship fund was raised from alumnae/i, in honor of the 35th anniversary of the Center for Continuing Education at Sarah Lawrence, two years ago. It is currently sufficient to award two-year scholarships to one student each year, for at least four years. "Many students are reluctant to take on large education debt when planning a career in what is unfortunately a low-paying field," said Alice Olson, director of the Center for Continuing Education, which administers the scholarship fund. "This scholarship will allow us to make a difference in the field, student by student."
While at W.C.C. Ms. Clancy did her fieldwork in the Early Childhood Center at Sarah Lawrence, one of the nation's top laboratory preschools, and at the Virginia Marx Children's Center. A licensed practical nurse in psychiatry, Clancy practiced nursing at a psychiatric hospital in Essex, England, having graduated from the Romford College of Nursing and Midwifery in Essex. She emigrated to England from Northern Ireland at the age of 17, and then to the United States when she won a green card in a U.S. Immigration and Naturalization Service lottery for Irish citizens.
A formal articulation agreement between the public and private institutions, easing the transfer of credits for students who earn an Early Childhood Associate's degree at Westchester Community College to Sarah Lawrence College, has been in place since 1996. "The Early Childhood Program at Westchester Community College is exceptionally fine, and provides students with a strong background in developmental psychology and educational practice," said Sara Wilford, director of Sarah Lawrence's Early Childhood Center and the Art of Teaching program.