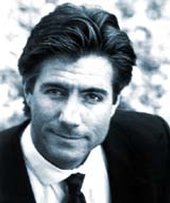 Sarah Lawrence College will commemorate Holocaust Memorial Day with a lecture by Professor James Young of the University of Massachusetts at Amherst, entitled "Berlin's Holocaust Memorial Problem—And Mine," Wednesday, April 21 at 5 p.m. in the Film Viewing Room, Reisinger Performing Arts Center. The event is free and open to the public. For directions and more information, please call (914) 395-2411.
Professor Young's lecture will explore his continuing role as the only foreigner and Jew appointed by the Berlin Senate to the five-member commission for Germany's national "Memorial to Europe's Murdered Jews," to be built in Berlin.
Ever since the wall fell between East and West Germany, there has been intense discussion and activity about how the newly united Germany should memorialize the six million Jews who died in the Holocaust. Berlin, soon to be the capital of the newly united Germany, was chosen to be the site of this memorial. Yet the nation is grappling publicly with the challenge of choosing a monument to what has been called the most shameful event in its history.
As the only American, and Jew, on the jury to decide on the Berlin memorial, Young is well positioned to offer insights into the process. "In his lecture," says Deborah Hertz, a faculty member in history at Sarah Lawrence and coordinator of the memorial day program, "Professor Young will share the particular agonies of the Germans trying to make this decision, as well as his own internal debate about how he views their agonies."
In a musical prelude, Adrienne Cooper will sing from her collection of restored cabaret music from the ghettos of Poland and Lithuania. Her performance, called "Ghetto Tango," narrates a story of enduring creativity that engages the black humor, rage, and anxiety of the artists who wrote the songs for the makeshift cabarets in the ghettos.
James Young is professor of English and Judaic Studies and chair of the Department of Judaic and Near Eastern Studies at The University of Massachusetts at Amherst. He the author of Writing and Rewriting the Holocaust and The Texture of Memory, which won the National Jewish Book Award in 1994. His forthcoming book, After-Image: The Uncanny Arts of Holocaust Memory will be published by Yale University Press this year. He is the recipient of numerous awards and fellowships, including a Guggenheim Fellowship, an ACLS Fellowship, and an American Philosophical Society Grant.